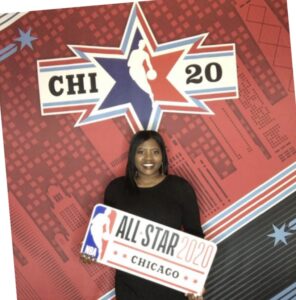 NBA All-Star weekend was extra special this year because it was held in the best city in the world…. Chi-Town!! It's been 32 years since it's been hosted in our beautiful city. The weekend festival is held every February during the middle of the NBA regular season. The National Basketball Association showcases 24 of the league's star players. The three day event (February 14th – 16th) consists of a variety of basketball events, exhibitions, and performances. The weekend concludes with the NBA All-Star game Sunday night (2/16/2020).
So how does the NBA All-Star game work? The NBA matches a mix of the leagues star players, who are drafted by the two players with the most votes. Those two players were Team Lebron James wearing the No.2 and Team Giannis Antetokounmpo wearing the No. 24. The significance of course is to honor the late Gianna Bryant (No. 2) and Kobe Bryant (No. 24). The 69th NBA All-Star Game is dedicated to the Bryants. May their legacy live on!
The tickets to attend the game can get pricey, but there's several events to make sure you still feel in on the action. I was lucky enough to be invited to participate in several All-Star weekend focused events and interview some well-known celebrities that ventured to the CHI during our cold freeze. Check out the recap of my adventures below and as always thanks for exploring Chi-At-A-Glance with me!
Tavi J. NBA All-Star Weekend Recap!
You know I love a good pre-party, so I kicked off my NBA All-Star weekend a day early at the Rookie USA 11th Annual Fashion Show. Some of the world's most fashionable celebrity kids and digital influencers showcased the latest looks and must see gear including apparel, accessories, and footwear from top international brands, including Levi's, Converse, Jordan, Hurley, and Nike. JD McCrary who stars on "The Paynes" on OWN hosted, performed, and walked in the show. Also in the building were the kids stylish parents and I interviewed them on the red carpet. Some of the celebrities in attendance included: J.B. Smoove, Tiffani Amber Thiessen, Dascha Polanco, Michael Epps, Fabolous, Super Bowl LIV Champions Kansas City Chiefs Tyrann Mathieu, Deloris Jordan, Founder and President of the James R. Jordan Foundation and mother of NBA Legend Michael Jordan, NFC West Champions San Francisco 49ers Emmanuel Sanders and many more.
It was so cute seeing the kids take center stage and the adults being super supportive. J.B. Smoove was on the red carpet encouraging his nephew that tonight was the night to show out on the runway.
"Tonight we're going to walk that runway like we O'hare. Cause we goin to land on it and we gonna walk that walk and go through that gate. We gonna deplane and walk through that terminal..model style. " J.B. Smoove
The night was ALL about the kids, but I still manage to squeeze in a few questions from the adults. Hip Hop Artist, Fabolous, sons were walking in the fashion show. I talked to Fabo about his upcoming 2020 "Coldest Summer Ever" Tour. More dates will be announced (including a Chicago stop). I asked Fabolous if he can drop us a few hints on who might be making a stop in Chicago with him on the tour. Fabolous said, "I'm not sure yet. I think I want to keep it spontaneous. I want to do that energy. I want people to come and be shocked by who pops out."
So many celebrities…so little time…but an awesome event! Proceeds from the event benefitted the James R. Jordan Foundation (JRJF) founded by Michael Jordan's Mother, Delores Jordan. In addition, Haddad Brands wanted to recognize the tragic lost of Kobe and Gianna Bryant by donating a portion of the proceeds to the Mamba on Three Fund.
I started my official day one NBA-All Star weekend at an event hosted by the Black McDonald's Operators Association. The "Beyond the Court" Panel discussion was moderated by NBA Legend Kenny "The Jet" Smith. Panel guests included professional basketball player, Iman Shumpert and sports agent, Lisa Joseph-Metelus. The topic of discussion was about turning your passion from the game into success beyond the court. The Black & Positively Golden All Star Panel included special guest Magic Johnson.
I had the pleasure of interviewing Kenny Smith and Iman Shumpert before the event. One question I had for Kenny Smith was surrounding the controversy of Kids/Young Adults going straight to the NBA from High School. I asked him what his thoughts were about that. Kenny said, "I think physically a lot of times basketball wise they may be ready, but very few. Emotionally/socially there not. The realistic aspect of NBA basketball is in the history of NBA basketball there's only been like 5100 people that's played in the NBA. It's such a small number compared to how many people there are in the world."
Such a great event hosted by the Black McDonald Operators Association. Pearls of wisdom were dropped AND can I say they sent us home with some dope swag! I'm going to sport my "Black & Positively Golden" hoodie proudly around town. Watch out now!
Saturday was a double hitter for me and I began my NBA All-Star festivities in the wee hours of the morning.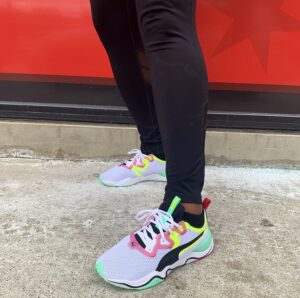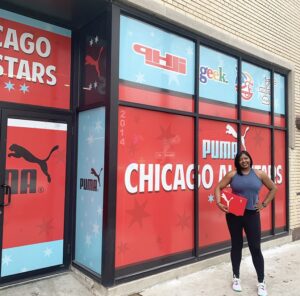 I started my day at a morning All-Star x Puma Fitness event hosted by FFG Performance founder, Deonte Morris. Deonte is the Puma official All-Star weekend trainer. The "Fit & Fresh for Life" functional HIIT training workout powered and branded by Puma was an exclusive event attended by 10 of Chicago's top Lifestyle, Fitness, and Wellness bloggers. I was honored to be in attendance. The 50 minute "Functional training experience" included a warm up, total body, total legs, and total body core. The workout was accompanied by DJ Commando providing the beats. I absolutely LOVE my new Puma shoes!! What a great way to experience NBA All-Star weekend.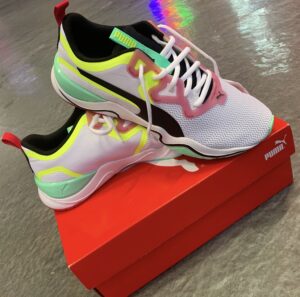 My next and final stop….. (Hey I was getting tired…LOL) was at the Sheraton Hotel located on Grand Avenue.
Athletes in Action, in partnership with the NBA Retired Players Association hosted the 15th Annual All-Star Breakfast. As a service to the local community, Athletes in Action created the All-Star Moms Champion Outreach, which occurs in conjunction with the All-Star breakfast. The event is designed to champion courageous single moms, by delivering a rare opportunity for support and encouragement with an exclusive All-Star experience. The event celebrates character and leadership.
My favorite part of the event was current and retired players talking about how faith has played an important part in their lives on and off the court. Such an inspirational breakfast!!
Okay….that's it from me. My NBA All-Star weekend is officially over…unless you have tickets for me to attend the All-Star game today?! LOL… So Team Lebron or Giannis? I guess will find out tonight!

Copyright secured by Digiprove © 2020-2021