EINSTEIN BROS. BAGELS LAUNCHES ULTIMATE BREAKFAST MASH-UP NATIONWIDE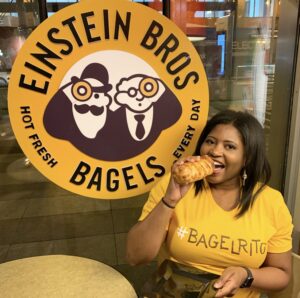 Last night Einstein Bros. Bagels celebrated the launch of its first-of-its-kind bagel innovation, the Bagelrito. Chicago received the honor of hosting the national launch party at the La Salle location. I was lucky enough to be invited to preview the Bagelrito as well as other innovative creations coming out this year with the Chief Baker himself, Chad Thompson.
The Bagelrito is loaded with two cage-free eggs, thick cut bacon, turkey sausage, three cheeses, hash browns, salsa, and green chilies in a flour tortilla, all hand wrapped in Asiago bagel dough and baked fresh. It's substantial size, high flavor, and portability has earned it its slogan: "big, bold, and easy to hold."
The game changing breakfast item is available TODAY nationwide. Chi@Glance followers can receive a special deal using the link below for a Bagelrito and a medium coffee for just $5.00! (about a $4.00 discount 🙂 ) Claim this offer by March 15, 2020.
www.einsteinbros.com/VIPdeal. To find your nearest location head to www.einsteinbros.com
 Enjoy!

Copyright secured by Digiprove © 2020