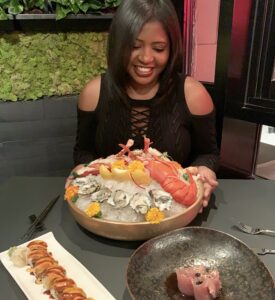 I'm always excited about new restaurant openings. Even better when the restaurant opens right down the street from my house. 🙂 This Fall Co-Owners Josh Carl and Joseph De Vito, known for their former spot Jellyfish, opened Stockton. Stockton is an entire floor on one of the most iconic streets in Chicago, (1009 N. Rush St.). The restaurant is combined with The Lounge at Stockton, which showcases a variety of elevated entertainment and deluxe drinks.
"We have been hearing from people with discerning tastes looking for an incomparable night out in Chicago, where they can go from amazing food to late-night live entertainment, DJs and high-end bottle service, all under one roof," said Josh Carl, co-owner of Stockton.
Surrounded by buff Chicago bricks, velvet banquettes, rattan seating and flanked with live plant walls, guests in the Atrium will indulge in an inventive seafood-influenced menu balanced with chicken, beef and pasta dishes. Cold Share Plates include Seafood Salad topped with jumbo shrimp and Truffle Burrata garnished with fried rosemary. An impressive Seafood Tower, offered in two sizes, is laden with lobster, oysters, king crab and jumbo gulf shrimp, and the Raw Bar presents à la carte shellfish. Hot Share Plates showcase Asian BBQ Baos stuffed with braised Korean BBQ short ribs, Spicy Rock Shrimp and Lobster Mac tossed in a four-cheese sauce.
For heartier appetites, Large Plates consist of the 8oz Grilled Hanger Steak and Gemelli Pasta flavored by sambal and crumbled sausage. Vegan entrées include Chilled GF Vegan Pasta tossed with seasonal vegetables and Spinach Edamame Hummus with grilled pita. Sushi-lovers will savor the Torched Salmon, Angry Jalapeño (spicy tuna) and unique Seared Ribeye rolls, to name a few. The same offerings are available in the Semi-Private Dining Room overlooking the Atrium with direct access to the lounge.
The Bar features a slick steel and mirrored backsplash, with additional seating along a dramatically-lit wall and a custom booth for private conversation. The dining menu will be available in the Bar area, along with an extensive cocktail, wine and sake list. Cocktail standouts are the Pinky Out blending Beefeater Pink, Aperol and strawberry ice cubes and the Matcha Ordinary Mojito mixed with Bacardi Superior and mint infused ice. Wines, including Bubbles, White, Rosé and Red, are offered by the glass, and exceptional wines are offered by the bottle. The Bar's energy escalates with a late-night DJ.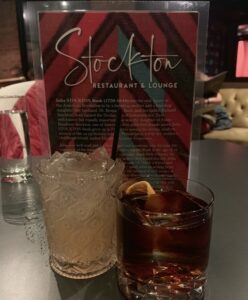 The Lounge at Stockton heats up the night as a sexy venue hidden from the street. In scarlet red from floor to stage, a bronze-finished bar and plush couches surrounds a space where luxury-minded clientele will be privy to deluxe cocktails and live music. The Lounge will deliver a defined selection of dishes from the Atrium menu, along with a cocktail and wine list. Alluring sips include Cool as a Cucumber, with Ketel One Botanical Cucumber Mint, fresh mint and cucumbers, and I'm the Captain Now melding Captain Morgan Spiced Rum, Peach Liqueur and Tropical Red Bull. The beverage menu is topped off with racy, over-the-top cocktails such as the SideCar, flamed tableside and served with an edible gold/sugar rim and drunken passionfruit pearls. Bottle service also will be available.
Stockton offers an appealing brunch of diverse bites and shared plates ranging from the Cinnamon Roll Pancakes with vanilla frosting, Avocado Toast topped with pomegranate seeds and Truffle Tuna Sashimi. Specialty cocktails like the Hangover Vanilla Latte and Hibiscus Mimosa round out the enticing daytime selections. Brunch will be served from 10 a.m. to 2 p.m. Saturday and Sunday in the Atrium dining area. Happy Hour will be available after opening.
Visit Stockton on their website at www.stocktonchicago.com, on Facebook at @StocktonChicago and Instagram at @stocktonchicago.
Check out more YUMMY Pics from our dinner below!

Copyright secured by Digiprove © 2019-2021