Cancer has affected all of us at some point or another. Whether it be a family member, loved one, close friend, or unfortunately yourself. Cancer affected my family back in 2002 when my dad was diagnosed with Colin Cancer and died two short years later in 2004. Cancer has no respect of person or age and takes away a loved ones life in the blink of an eye.
Non-profit organizations like "Gateway for Cancer Research" are committed to funding innovative cancer research that helps people living with cancer to feel better, live longer, and conquer cancer TODAY! 99 cents of every dollar Gateway receives directly funds Phase I and Phase II cancer clinical trials at leading research institutions across the world. Over the past 28 years Gateway has raised more than $85 million for cancer research and funded 170 clinical trials, benefitting 5,500 patients worldwide.
I was so honored four years ago when the organization reached out to me to cover their red carpet pre show at the annual Cures Gala. 2019 is my fourth year covering the gala and the event brings out a star studded line up. Global philanthropist Dr. Stacie J. Stephenson (Vice Chairperson, Gateway) and Mr. Richard J Stephenson (Gateway's Founder and Chairman) served as the evening's host. Esteemed philanthropist Mr. Muneer Satter served as honorary co-chair. "Cancer affects all of us and the generosity and dedication of those passionate about our urgent cause makes the vital research funded by Gateway possible, giving patients more comfort, more hope, and one of life's most precious gifts – time, " said Dr. Stacie J. Stephenson. "This inspirational evening reflected the impact and continued promise of lifesaving research, and our tireless commitment to changing the face of cancer."
What a spectacular evening for this year's cures gala! The event was located at the Schaumburg Convention Center in Schaumburg, IL and the theme of the evening was "Gateway Studio 54." $4.2 million was raised Saturday evening, November 2nd. Grammy Award winning Singer/Songwriter/Producer Ceelo Green treated the crowd to his blockbuster hits and Grammy Hall of Fame recipients the SugarHill Gang delighted the crowd with their hit, "Rappers Delight." Tony Vincent, ABBA Revisited, and the Montreal Rhapsody Orchestra performed live for guests.
Actress Melissa Peterman served as emcee for the evening, which was attended by special guests including Samantha Harris (EMMY Award winning TV host and model), Torrey DeVitto (NBC's Chicago Med), Joe Minoso (NBC's Chicago Fire), Marina Squerciati (NBC's Chicago PD), Molly Bernard (NBC's Chicago Med), Willa Fitzgerald (MTV's Scream), and Alycia Mondavi (CEO and Co-Proprietor of Aloft and Dark Matter Wines).
It was my pleasure interviewing the celebs on the red carpet. TV Host, Samantha Harris, was affected personally by cancer. She was previously diagnosed with breast cancer and underwent a double mastectomy. In 2014 she was declared cancer free. When asked what the evenings Cures Gala meant to her, Samantha responded, "As a breast cancer survivor we know that more work is needed. There are so many wonderful organizations, but what is so special about Gateway is that they fund phase 1 and phase 2 clinical trials. Every dollar is needed. 99 cents of every dollar raised goes to these trials to help people with rare cancers. Breast cancer is one of the most researched and heavily funded of all the cancers out there. There are so many cancers that are under funded and under researched and we need more help. That is where Gateway comes in and they do a tremendous job."
Even if you yourself haven't personally dealt with cancer, most of us know someone we love that has been affected by it. When I interviewed Marina Squerciati she said her aunt, uncle, and uncle's wife had passed away from cancer. Marina said, "It's great to be here to have a great time and support a great cause. A lot of places only 2 cents of every dollar go to cancer research, so 99 cents of every dollar is AMAZING!"
It was nice to see representation from all of our FAVORITE Chicago shows: Med, PD, and Fire at the Gala. When I asked Torrey DeVitto if we can expect any more cross over episodes she said, "I don't know, but probably not this year. We normally try to do one a year. There very expensive and trying to do the scheduling for those are insane!!"
One of the highlights of my evening was probably interviewing Joe Minoso from Chicago Fire. This year Joe lost his work partner Otis on the show and I'm sure all fans want to know how it was filming that last episode with Otis? Joe replied, "It's funny because sometimes it still sort of creeps its way up just on a random day. We all wear the same thing obviously as firefighters and days when we're all out there you feel it. You turn your head and you think he's there with you. It was the hardest episode I've ever done for many reasons. Not only did I lose a great friend on a daily basis, I mean he's here with us though thank goodness, but just the dynamics the two of us had I think is really special. It was such a joy to experience that everyday with him. I think it's good for the growth of the show and Yuri is going to take over the world so I'm not worried for him."
I then deviated away from the show to ask Joe a little more about his personal life. Joe and his wife just celebrated their 3 year anniversary. I also happened to know that his wife is doing some amazing work with cancer survivors as a tattoo artist. I asked Joe if he could tell us a little more about the work his wife is doing and his eyes lit up. Joe said, "I'm so happy you're asking me about my wife. That's my favorite topic to talk about. She is a Paramedical Tattoo Artist. She does scar camouflaging and nipple tattoos. It's just really a beautiful way to embrace and love yourself but at the same time being able to accept yourself and everything about yourself. She's found this beautiful space in the market and she's doing so well. I'm VERY impressed with her!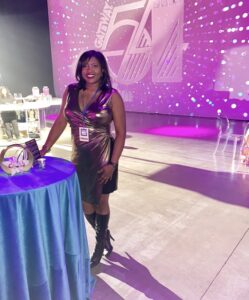 The Cures Gala was such a successful event with truly amazing, caring, and generous human beings in attendance. Make sure to check out the website www.gatewaycr.org. Follow them on social media Facebook: facebook.com/demandcures and join the conversation on twitter @DemandCures. To learn about the national event series, visit the Signature Events page at www.gatewaycr.org/signature-events.
See you next year!

Copyright secured by Digiprove © 2019