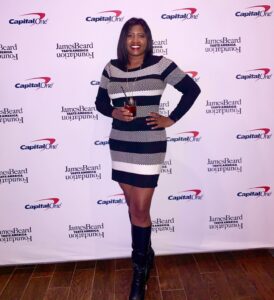 I had such an AMAZING time at the James Beard Foundation Awards Gala back in May. I was super excited for the foundation to be back in Chicago for the "Raising the Bar Reception" last night. The reception is part of the James Beard Foundation 20 City Taste America Tour. Guests were treated to a night of food, drink, live music, and smart tips/guidance on how to build a better and sustainable food world.  
The James Beard Foundation's mission is to celebrate, nurture, and honor chefs and other leaders making America's food culture more delicious, diverse, and sustainable for everyone.
The event was located at Club 77 and hosted by Chef Patrick Sheerin. Guest enjoyed delectable bites which included: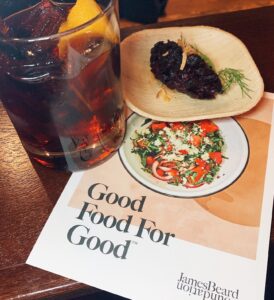 Tempura Mushrooms with Mapo Tofu Vinaigrette
Juniper-Cured Salmon with Cucumber Ravigote on Buckwheat Pancakes
Smoked Beet Tartare with Horseradish and Dill
Choucroute Garnie Tartlets with Gruyère
Shrimp Pad Thai Frittata with Tamarind
Italian Beef Station > Slow-Roasted Wagyu Beef Chuck with Roasted Peppers and Onions, Giardiniera, Toasted Garlic Ciabatta, and Jus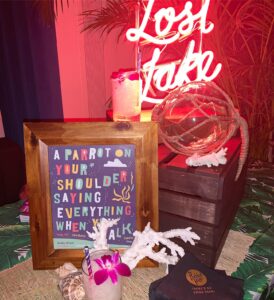 Attendees didn't go thirsty! 🙂 Our featured mixologists for the evening made sure we were well taken care of.
Shelby Allison, Lost Lake, Chicago
A Parrot on Your Shoulder Saying Everything When You Talk > Fords Gin with Dry Vermouth, Fino Sherry, Coconut, and Lime
Lanie Bayless Sullivan, Bar Sótano, Chicago
Mango, Chamoy > El Tesoro Blanco Tequila with Mango, Spicy-and-Tangy Chamoy, Lime, and Topo Chico
Caitlin Laman, Chicago Style, Chicago
Hare There > Rabbit Hole Distillery Bourbon with Alessio Torino, Campari, and Cacao
Head to www.jamesbeard.org to see when there in your town next!

Copyright secured by Digiprove © 2019