Event: LuxeHome Chill
When: Thursday, November 14
Where: theMART
Address: 222 W Merchandise Mart Plaza
Time: 6:00 to 8:30pm
Cost: $125 till Nov. 1st $145 after Nov. 1st
Tickets: https://chillluxehome.tix123.com/
LuxeHome CHILL Returns to theMart on Nov. 14 in Support of Three Chicago-Area Charities
Dynamic Epicurean Event Welcomes More Than 30 New Restaurants to City's Luxury Design Hub
LuxeHome, in cooperation with Wine Spectator Magazine presents CHILL, an International Wine & Culinary Event on Thursday, Nov. 14, 2019. CHILL brings together the best of Chicago's food, drink and design, amidst the ambiance of LuxeHome, the world's largest collection of premier boutiques spanning over 200,000 square feet on the first floor of theMART.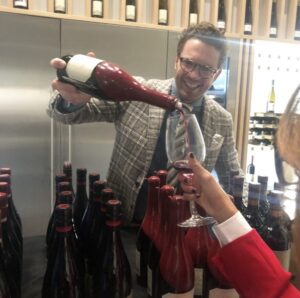 Throughout the event, guests will have the opportunity to explore more than 45 LuxeHome showrooms, each populated by a talented chef from over 60 of the city's leading restaurants. While also sipping spirits and wines from nearly 40 makers, guests will enjoy musical entertainment and theatrical performances from local talent. Participating Restaurants click HERE. Participating Wine, Spirits, Beer, Click HERE.
Proceeds from the event benefit The Lynn Sage Foundation, Respiratory Health Association and Saturday Place. Now in its 13th year, CHILL has raised more than $1.85 million to support its charitable partners, with last year's event raising over $250,000.
CHILL 2019 takes place from 6 to 8:30 p.m. at theMART (222 W Merchandise Mart Plaza). Advance tickets available to purchase, here ($125). After Nov. 1, ticket price will increase to $145.
For more information on CHILL, please visit www.luxehome.com/chill. Stay up to date on event news and happenings, and join the conversation on Facebook; Twitter and Instagram (#LuxeHomeCHILL)

Copyright secured by Digiprove © 2019