LIGHTS, CAMERA, NAPKIN! CHICAGO GOURMET returns, ready to entertain
SEPTEMBER 27-29, 2019
 Pre-Sale Tickets on sale Thursday, April 11 at 10 A.M. CST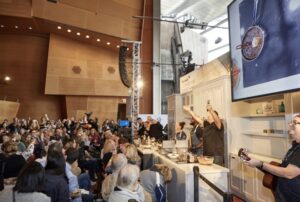 Come September, the spotlight is on Bon Appétit presents Chicago Gourmet. The nation's premier culinary festival celebrates all things food, drink and entertainment with a spirited 2019 theme – Lights, Camera, Napkin! – and is ready to show hungry fans exactly why "there's no business like show business."  The highly anticipated pre-sale opens Thursday, April 11 at 10 a.m. CST at chicagogourmet.org.
Founded by the Illinois Restaurant Association and produced in partnership with title sponsor Bon Appétit and presenting sponsor Southern Glazer's Wine & Spirits, Chicago Gourmet's main event and exclusive Grand Cru, presented by UnitedHealthcare and Optum, returns to stunning Millennium Park, September 27-29. Ready to entertain with the best food, wine, spirits and top talent from around the country, Chicago Gourmet 2019 will not disappoint. Attendees can also expect a weekend of show-stopping ancillary events that champion this year's creative direction.
"We are so excited to celebrate Chicago Gourmet's 12th year with this new theme," said Sam Toia, President and CEO of the Illinois Restaurant Association. "Chicago has always been a destination for world-class dining and entertainment – including theatre, comedy, film, television and much more. We look forward to bringing the city's entertainment scene and culinary world to life through an award-winning lineup of programming and events."
While supplies last, tickets for the Grand Tasting Main Event will be available at $156 per person, per day, or $288 per person for a Weekend Pass. This pricing represents a substantial savings over regularly priced tickets, which are $195 per person per day, or $310 per person for a Weekend Pass. (Regularly priced tickets will immediately become available as pre-sale tickets sell out.)
Grand Cru tickets, as well as gourmet travel packages with accommodations by Hyatt Regency Chicago, Langham Chicago and Fairmont Chicago, are also available beginning April 11.  
Along with the Grand Tasting Main Event and popular mainstay events like Hamburger Hop, Late Night Gourmet and Rise & Shine Gourmet, Chicago Gourmet 2019 will feature additional events kicking off as early as Wednesday, September 25. With an A-list cast of culinary talent, the series will match up the city's leading chefs to showcase the best of Chicago food, wine and entertainment in iconic venues and unique locales. With a compelling script in place, this ancillary event series is sure to be a box office smash. Tickets will go on sale in June.
For more details, visit chicagogourmet.org. Questions regarding ticket sales may be directed to chicagogourmet@illinoisrestaurants.org or (312) 380-4129.

Copyright secured by Digiprove © 2019