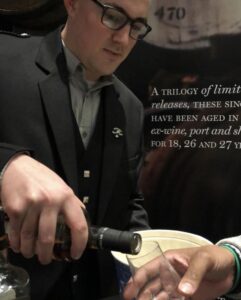 This year was my first time at Whisky Fest Chicago! It was presented by Whisky Advocate Magazine March 29th at the Hyatt Regency Hotel. I'm not going to pretend to be a whisky connoisseur, but I do love a good whisky neat!
I must admit it was a little overwhelming for me at first. When I downloaded the app my heart did a little palpitating when I saw there were over 300 whiskies from around the world to try. Whiskies included Scotch, Irish, Bourbon, Rye, Tennessee, Japanese, Canadian, Taiwanese, Indian, and craft distilled whiskies poured by the master distillers that created them.
I was excited to attend the VIP hour and had selected a few whiskies I wanted to try that would only be available during that time period. I would have to say VIP is the way to go. There were still quite a few people, but not too many that you couldn't make the rounds to your whisky booth of choice.
I happen to be with a couple of friends that know their whisky and once the doors opened we raced to try the Hibiki 17 yr. Hibiki is a premium blended whisky produced in Japan by Beam Suntory. Hibiki Whisky is not only Japan's most highly awarded blended whisky, but among the most prestigious and honored whiskies in the world.
Another crowd favorite appeared to be the Blackened whisky. Blackened became popular with its affiliation to the group Metallica. Each batch is exposed to different songs during the enhancement process. Keep track of the number on the bottle and check out the playlist.
One of my favorite whiskies to order when I hit the town is Four Roses. It was great to try the 130th year anniversary Limited edition during VIP hour. The 130th limited edition focuses on building around the unique fruit flavors in the F and V yeast strains. The flavors shine through in the finished product.
I know spring is here….but…."Winter is coming." At least to Johnnie Walker it is. 🙂 We definitely made sure we headed to the Johnnie Walker experience room to try some rare and vintage Johnnie Walker whiskies. In honor of "Game of Thrones" on HBO returning April 14th, Johnnie Walker has a "White Walker" blend specially designed to be served cold. Also gotta give a shout out to that Johnnie Walker Blue Label served during VIP hour. It'll run you about $400 a bottle!
You know what goes good with Whisky? Oysters!!! Bowmore was serving up the Bowmore 25 and Bowmore Vintner Series – 18 yr. Manzanilla 105 during VIP hour. "Sip the oyster brine, sip the Bowmore, eat the oyster, Swirl the Oyster shell with the Bowmore, Drink the Bowmore from the shell." OMG loved the flavors and texture together. I need to do that every time I go out now!!
Other favorites were Pappy Van Winkle 23 yr, Dewar's Fine Scotch Whisky 18 yr, and Whistle Pig Boss Hog V: The Spirit of Mauve. Check out this throw back picture when I attended Whistle Pig "Celebration of Life Party" at The Dalcy back in November of last year.
I thoroughly enjoyed my time checking out Whisky Fest. I thought the set up was perfect. From the water in the goodie bags hydrating us, to the gourmet buffet energizing us, and the 10 educational seminars to choose from….. I left feeling more like a whisky aficionado. I loved the fact that everyone attending the fest was there to enjoy and try something it took years to create. Some of us weren't even as old as the whiskies we were drinking.
Definitely fun times and put Whisky Fest on your must do list for next year! Or head to the site and check out the other cities you can catch it in. Cheers! Whiskyfest.com

Copyright secured by Digiprove © 2019