Summer summer SUMMER TIME…..is almost here! They say summer bodies are made in the winter and for those not wanting to miss a work out whether you're on a business trip, vacation, or a staycation (like me) the DoubleTree by Hilton on the magnificent mile in Chicago has you covered! The hotel has undergone a $35 million dollar transformation and one of the renovations they revealed last week are the "Five Feet to Fitness Rooms." I'm so excited I got to be the first person to do an overnight stay at this location in one.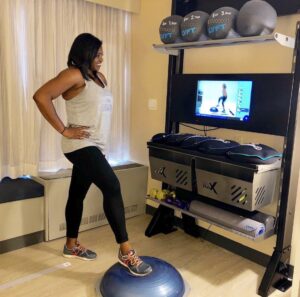 The Five Feet to Fitness Rooms are a convenient way to exercise in the privacy of your own hotel room. The rooms offer 11 different types of fitness equipment and accessory options in-room, including an indoor bike and a dynamic Gym Rax™ functional training station that delivers unlimited strength, core and High Intensity Interval Training (HIIT) style workouts to guests via a digital kiosk. Guests can choose from different workouts. There's even specifically designed workouts for elderly people called "Forever Fit" and workouts designed specifically for children. There's a total of three "five feet to fitness rooms" in the DoubleTree Hilton on the Magnificent Mile and one of the rooms is an ADA room with workout content created for people in wheel chairs.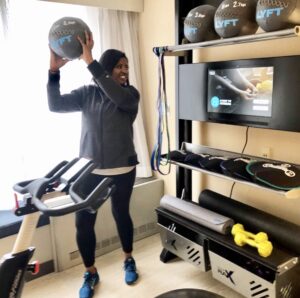 I was super excited to test out the Five Feet to Fitness Room workouts. Teresa Flyger, director of global brand awareness, at the Hilton, showed me the ropes before I started my work out. Hilton really listens to their customer base. They did a study amongst 20,000 people and 1 in 4 said YES to an in room workout experience. The new in-room wellness concept makes it super convenient than ever for road warriors, exercise enthusiasts, and for those that prefer to workout in private to maintain their routines while staying at the Hilton.
Other hotels might put a bike in the hotel room and call it a fitness room. DoubleTree by Hilton sets themselves apart with the special touches. Take for example the Ecore flooring in the five feet to fitness room area. Ecore flooring is sound and impact absorbent. So when you're working out your joints aren't going to hurt afterwards. There's also complimentary beverages in the five feet to fitness room, so you don't have to guess if the water you picked up is going to set you back $7. For those looking to tend to their joints after working out there's also complimentary Bio Freeze in the bathroom.
The DoubleTree by Hilton on the magnificent mile renovations didn't just stop with the Five Feet to Fitness Rooms. The hotel completely transformed dining outlets, guestrooms, and meeting spaces to create a contemporary upscale experience. Located two blocks from Michigan Avenue and the magnificent mile is sure to make for a great stay!
One thing I have always LOVED about DoubleTree hotels is the fresh baked warm cookie they greet you with. I actually get excited for the check in process because of it. Thank goodness that hadn't changed. What has changed is the new open concept Lobby and the design décor representing Chicago's  four seasons. Take for example in the lobby they have the orange leaf design that is representative of fall.
Right next door to the lobby guests can relax and socialize over cocktails and some of Chicagoland's best craft beer at the new HotHouse restaurant and bar with a communal feel. Incorporating locally sourced ingredients, HotHouse offers light fare met with the excessive indulgences that founded the Chicago food scene. The restaurant furnishings are designed to reflect Chicago's iconic urban parklands.
My friend and I dined for dinner at HotHouse during our stay and enjoyed sweet and savory plates meant for sharing. Check out the food items we had from HotHouse below. For guests looking for grab-and-go can stop by the new Made Market for freshly brewed Starbuck's Coffee and a variety of ready-made sandwiches and salads. Made Market should be up and running sometime in the spring. HotHouse is open NOW!
We sort of stuffed ourselves into a food coma (lol) and retreated back to our newly renovated guest room. The updated guest rooms feature a fresh blue and grey color palette and wood furniture, contrasting against white amenity centers. While in-room artwork pays tribute to Chicago's great architectural masterpieces, guests can experience Chicago from the comfort of the new built-in upholstered window seats.
For those traveling to the hotel on business and need meeting space there's 16,000 square feet of meeting space and increased internet bandwidth. The hotel offers the new and magnificent LaSalle Ballroom that can seat up to 300 guests, with its foyer the perfect spot for a cocktail reception or exhibit space. Guests looking for a larger open-flow gala or conference can even combine LaSalle Ballroom with the State Room to span more than 9,000 square feet and hold 500 guests. Event attendees can easily access the LaSalle Ballroom through the grand spiral staircase that connects the lobby to the ballroom foyer. Those looking for an outdoor venue for a wedding or party will enjoy the breathtaking views of the city skyline from the renovated rooftop pool deck on the 5th floor.
Later this spring, DoubleTree by Hilton Hotel Chicago – Magnificent Mile will unveil a new collection of rooms, The Mile, located on the top five floors of the 26 floor hotel. These luxurious rooms offer guests refined, condominium-style studios or one-bedroom suites as their ideal urban oases.
I had sooooo much fun on my staycation at the DoubleTree by Hilton on the Magnificent Mile! You should check it out for yourself whether on business, vacation, or like me just need a getaway and to play tourist for a day.  Doubletree by Hilton Hotel Chicago – Magnificent Mile: 300 E. Ohio Street, Chicago, IL 60611, (312) 787-6100

Copyright secured by Digiprove © 2019