"Adulting" can be exhausting at times! Am I right? Simple things like trying to plan a night out with friends can be excruciating. Where should we go, what should we do, what time, what date….sometimes you need to plan months in advance to try to get a group of three or more on the same page.
What would you say if I told you there was an easy way to plan an "all day" fun excursion from Chicago to Southwest Michigan for a winery tour? The only thing you and your friends have to agree on is the time and date. Everything else would be planned for you. No need to worry about planning transportation, lunch, or what wineries. Sound good?
Midwest Adventures Winery Tour lets you sit back and relax, while they do ALL the planning (even lunch). Cannonball Productions is the full-service company behind the Midwest Adventures Weekend Winery Tour. They plan unique getaways from downtown Chicago and take care of every detail. The only thing I needed to do was round up the troops and pick a day and time. (Believe it or not that was even easy because I only gave my friends two options to choose from. Tip: Don't give too many options when planning with big groups of 4 or more).
So we all settled to go at 10:30 am on Saturday, February 16th. Choosing this option would get us back downtown at 7:00pm (so we could enjoy our newly purchased wine over dinner….lol). Check out our nicely planned agenda we received through email:
10:30am – Arrive and Check in at 600 N. Clark Street
10:45am – Chartered Bus Departs
12:30pm – Lemon Creek Winery
1:30pm – Founder's Wine Cellar (Hearty Lunch)
3:30pm –St. Julian Winery and Round Barn
5:00pm – Depart Michigan and head back to Chicago
7:00pm – Arrive back at meeting spot in Chicago
How awesome is that?!? Not having to pick the wineries or even worry about lunch plans. All we had to do was enjoy our time on the chartered bus together and get chaffered to some amazing wineries. The tour includes 4 wineries and 5 tastings at each winery. Check out a little info and pics of each spot we went to below. Make sure to start "planning" or should I say "choosing" when to go on the next Midwest Adventures Winery Tour!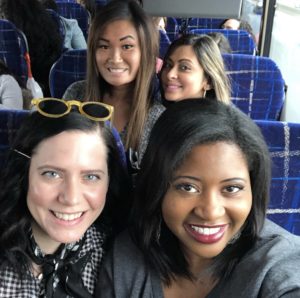 10:30am….All aboard!!! So happy that when I checked my phone the tour departed promptly at 10:45am! We we're already off to a great start. I value punctuality!!!
1st Stop – Lemon Creek Winery – 533 E Lemon Creek Rd, Berrien Springs, MI 49103
Lemon Creek has 160 years of grape and fruit growing experience. There's approximately 170 acres of wine grapes and about 60 acres of a variety of fruits. Excellent first stop to get the wine tasting going!
2nd Stop – Founder's Wine Cellar – 8963 Hills Road, Baroda, MI 49101
Wine selections range from classic varietals to fruit-flavored enhanced, and delectable dessert wines infused with chocolate. I LOVED the wine "OH HELL YEAH! Red" It was a sweet red wine with a supple berry flavor. This is also where we chowed down on lunch provided with the tour.
3rd Stop – St. Julian's Winery – 518 W. 14 Mile Rd Troy, MI 48083
St. Julian's is a small town winery with a passion to produce high quality, yet affordable wines, ciders, spirits, and beer. I had to try the "Cock of the walk." And the verdict….NOT BAD. 🙂 I also loved trying the A&G Rum spirit. Sweets smells of vanilla bean and carrot-cake with a sweet creamy finish. YUM!
4th Stop – Round Barn Winery – 10983 Hills Rd, Baroda, MI 49101
Last stop! By this point we were ALL feeling mighty good (if you know what I mean). Loved the unique way this tasting worked. We circled six that we wanted to try and they provided the tasting to us in a tray. We then got to sit at a table and talk about ALL the fun we had that day!! We also got a cool wine glass from this spot to take home. Expect to discover great wines, cool brews, and uplifting spirits at Round Barn.
Afterwards we got back on the bus! When I say our ride home was LIT….it was LIT. The group we we're traveling with had their Ipod play list and our awesome tour guide Vinna let us listen to it all the way home. My friends and I had an absolute blast on this tour and would highly recommend it for friends, couples, and people just looking for an all around fun escape from the city. Cheers!
Midwest Adventures Winery Tour
mwadventures.com
Instagram: @Midwestadventurers
Facebook: @mwwinerytours

Copyright secured by Digiprove © 2019