Event Alert: Cochon555
When: Sunday, March 3, 2019
Where: Morgan Manufacturing
Address: 401 N. Morgan Street, Chicago
Time: 4pm VIP and 5:30pm – 7:30pm G.A
Tickets: G.A. $130  VIP $200
Website: www.cochon555.com
COCHON555 RETURNS TO CHICAGO ON MARCH 3rd
EPIC CULINARY COMPETITION COMING TO MORGAN MANUFACTURING
 FIVE CHEFS, FIVE PIGS, FIVE WINEMAKERS, FIVE SOMMS, FIVE BARKEEPS…FOR ONE CHARITY
Cochon555, the nation's acclaimed culinary, wine and spirit celebration in support of charity and education, is celebrating ten years during their 2019 nationwide tour. The dynamic events will all feature more than one hundred prominent chefs, farmers, sommeliers, distillers, brewers and barkeeps all working to create luxurious moments that educate the palate. The tour returns to Chicago on March 3rd and culminates with Grand Cochon, the finale on September 15th in Chicago. The goal is to raise the bar on building a sustainable and profitable relationship for brands and chefs participating in culinary festivals. Every event is a fundraiser for Cochon555's sister charity, Piggy Bank, a start-up farm in Missouri that serves as a kickstarter for new family farms and a safety net for those in the wake of a disaster (flood, fire and disease).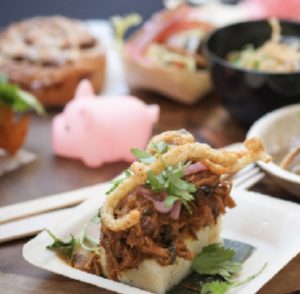 Cochon555 is a culinary competition promoting local family farming and whole pig cookery through the eyes of five notable chefs. Tasked with the goal to win votes from celebrity judges and participants, chefs have one week to prepare a 200 pound pig and present a "Judge's Plate" scored on utilization; technique; and overall flavor. The winner of the local competition is announced the Prince or Princess of Pork and advances to the national finale. Grand Cochon spotlights the 'Best 3 Bites' from all Cochon555 regional events in a head-to-tail, winner-takes-all showdown for the crown.
The ultimate aim of Cochon555 is to provide education to chefs and consumers and create experiences that guests can sink their teeth into: honest food from real farmers. Through education, the goal is to raise the bar on building a sustainable and profitable relationship for brands and chefs participating in culinary festivals.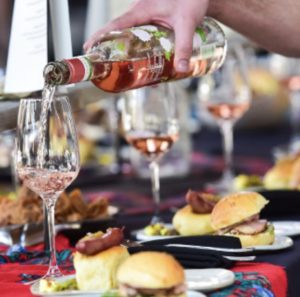 Running in tandem with the tour are a pair of internal competitions. Punch Kings presented by El Tesoro Tequila, a whole bottle spirit competition featuring the city's top barkeeps in a hand-crafted punch challenge and Somm Smackdown, a face-off of the nation's top sommeliers pairing the best wine with heritage pig.
For an in-depth look at the distinguished events of the Cochon555 movement, online videos, tour dates and to purchase tickets, visit www.cochon555.com.
Tickets for general admission start at $130; VIP tickets (early admission + exclusive access to sommelier competition and allocated wines and spirits) are $200.
Dishes for the competition are just the beginning — all in, we're talking about 1,500 pounds of responsibly raised heritage breed pork and dozens of delicious drinks from some of the best bars in Chicago. Start the event by exploring our signature Cheese Bar curated by local cheesemongers. Sip sparklers from LaCroix, inventive cocktails from Wheatley Vodka and Diplomático Rum, and enjoy the Manhattan Project featuring premium bourbons from Eagle Rare and Buffalo Trace topped with Luxardo cherries. Learn about pairings at the Surf & Turf TarTare Bar aligned to the wines of Patz & Hall and taste through the stunning portfolio of Azzuro Wine Company. Guests wanting a sweet bite with a savory twist will enjoy innovative desserts spotlighting notable pastry chefs working with Perfect Puree of Napa Valley. Placing the spotlight on "knowing where your food comes from", the event will feature an educational whole animal butchery program called the Pop-Up Butcher Shop and Silent Auction with gifts from chefs, sponsors and John Boos & Co., to benefit our sister charity, Piggy Bank.
About the Cochon555 North American Tour
The Cochon555 Tour executes a yearly host of authentic, hyper-local food events focused on raising awareness for heritage breed pigs through an innovative nose-to-tail pig cooking competition. This epic pork feast visits 15 major cities in North America annually. The tour is comprised of an array of live expressions and cultivates a long-term impact for heritage species. Both educational and inspirational messages are circulated among 16,000 guests; 2,200+ chefs; 150+ family farms and culinary schools each year. Since 2009, 108,000+ consumers have experienced heritage pork for the first time, more than $1,100,000 has been donated to charities, and over $1,200,000 has been paid directly to our farmers. For more information, visit www.cochon555.com or follow @cochon555 on Twitter and Instagram.
About Piggy Bank
Launched in 2015, Piggy Bank is creating a farming sanctuary for heritage breed pigs, many of which are endangered. Piggy Bank will provide genetics and access to shared business plans for raising heritage pigs to emerging family farms. Piggy Bank aims to change the future of food by creating a community in which small farmers can learn about safer, more responsible practices and share genetics, livestock, and the very information needed to thrive as small businesses. Piggy Bank is building a model of socially responsible agricultural transparency. Piggy Bank proudly operates as a project of the Trust for Conservation Innovation, a 501(c)3 tax-exempt nonprofit organization which accelerates impact for initiatives focused on protecting and fostering a healthy, sustainable, resilient, and equitable world. For more information or to donate, visit www.piggy-bank.org or follow @PiggyBankOrg on Twitter. Watch the video http://j.mp/PIGGY_BANK.

Copyright secured by Digiprove © 2019