Black History month begins in February and what better way to kick it off than the 36th Annual Black Creativity Gala. This past Saturday 750 guests gathered at the Museum of Science and Industry (MSI) to support MSI's annual Black Creativity program and its events. $475,000 was raised to go towards Black Creativity. Black Creativity pays tribute to the culture, heritage, and scientific contributions of African American's. The program helps motivate youth in science, technology, engineering, art, and medicine.
"At the Museum of Science and Industry, we believe the best way to ensure continued diversity in STEM fields is to showcase diversity in STEM fields," said David Mosena, president and chief executive officer, MSI. "The Black Creativity Gala is a wonderful celebration of African American achievement that provides the necessary resources to inspire the next generation to build on that success."
The Gala began with my favorite part of the evening, which is the Black Creativity Juried Art Exhibition. The Juried Art Exhibit is the longest running exhibition of African-American art and has been displayed annually at MSI Since 1970. The exhibit features more than 100 dynamic works of art from both professional and amateur African American artists from around the country, including artworks from youth artists between the ages of 14 and 17. The exhibit runs through February 24th. During the Gala guests got to view the exhibit while enjoying cocktails and hors d'oeuvres. The artwork IS available for purchase. Here are a few of my favorites.
After cocktails we headed to the Museum's Rotunda where we chowed down on food stations provided by Sodexo. The food is always FABULOUS each year! Dinner options included a flaming wheel of cheese with house-made pasta, braised bison short rib, seafood gumbo, fingerling potato poutine, geoduck poke, grilled octopus, oysters, a dessert bar, and more.
While eating we were entertained with live music from the Children's Choir, DJ Nick "Nonstop" Nicholson, and the Nanette Frank Jazz Orchestra.
The evening wasn't over yet! Attendee's got to view the Museum exhibits and hands on experiences after hours. So cool to do in this type of setting. The Black Creativity Innovation Studio was open and we got to use our curiosity to create tools and solutions that could one day solve challenges we face daily. We also were able to explore Museum favorites including Science Storms, The Great Train Story, Numbers in Nature: A Mirror Maze, and many more.
The Black Creativity Gala is such a fun event and needs to be added to your roister of events to attend next year! For more information, visit msichicago.org or call (773) 684-1414.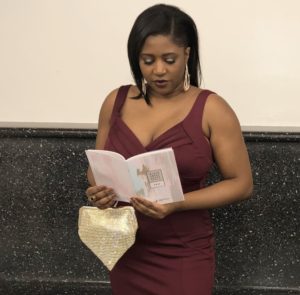 Copyright secured by Digiprove © 2019