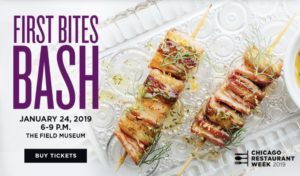 Event: First Bites Bash
When: Thursday, January 24th
Where: The Field Museum
Address: 1400 S. Lake Shore Drive, Chicago
Time: 6:00pm to 9:00pm
Tickets: Click HERE
Cost: $125.00

The 12th Annual Chicago Restaurant Week organized by Choose Chicago is right around the corner. (January 25th – February 7th). The culinary celebration features special prix fixe menus starting at $24 for brunch and lunch, and $36 and/or $48 for dinner (excluding beverages, Tax, and Gratuity). This year's Chicago Restaurant Week will be the largest ever, with nearly 400 local restaurants participating. There will be 100 first-time participants and 45 suburban restaurants. Click here for full list of participating restaurants.
The Kick off to Chicago Restaurant Week is the First Bites Bash. I went last year and had a lot of fun! You get to sample bites from 70+ Chicago restaurants. Ticket proceeds benefit Pilot Light, a local non-profit that helps kids make healthier choices through food education. This year's First bites bash hosts are:
Chef Joe Flamm from Chicago's Michelin-starred Spiaggia and Café Spiaggia. He was also the winner of Bravo's Top Chef Season 15.
Mixologist Jarmel Doss who is the assistant bar director at The Aviary. She was named the winner of the inaugural Chicago STARS Mixology competition by the National Restaurant Association. She was also Chi@Glance December Spotlight Feature.
Head to the First Bites Bash site to check out the full list of participating restaurants and to buy your tickets. Come hungry and see you there!

Copyright secured by Digiprove © 2019