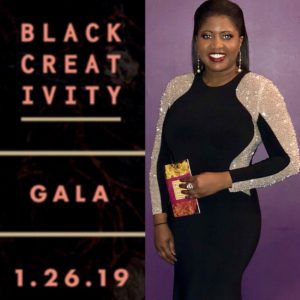 Event Alert: Black Creativity Gala
Where: Museum of Science & Industry
Address: 5700 S Lake Shore Dr., Chicago
When: Saturday, January 26th
Time: 6pm to 11pm
Cost: $350/Individual Ticket
Website: Click HERE
MUSEUM OF SCIENCE AND INDUSTRY CELEBRATES ART AND INNOVATION WITH 36TH BLACK CREATIVITY GALA
Annual Gala supports MSI's Black Creativity art exhibit, hands-on Innovation Studio, and more
The Museum of Science and Industry, Chicago (MSI) will host its 36th annual Black Creativity black-tie gala on Saturday, January 26, 2019. The Gala raises money to support MSI's annual Black Creativity program and its events, which pay tribute to the culture, heritage and scientific contributions of African Americans and help motivate youth in science, technology, engineering, art and medicine.
"At the Museum of Science and Industry, we believe the best way to ensure continued diversity in STEM fields is to showcase diversity in STEM fields," said David Mosena, president and chief executive officer, MSI. "The Black Creativity Gala is a wonderful celebration of African American achievement that provides the necessary resources to inspire the next generation to build on that success."
The Gala is co-chaired by Dr. Eric Whitaker, Chairman and CEO of TWG Partners, LLC, Dr. Cheryl R. Whitaker, Chairman and CEO of NextLevel Health Partners, Inc., and Cheryl Harris, senior vice president at Allstate Insurance Company.
"The Black Creativity Gala and the Black Creativity program overall is a wonderful way to hold up the accomplishments of African Americans so all kids can see themselves in what they want to be when they grow up," said Dr. Eric Whitaker, chairman and chief executive officer of TWG Partners, LLC. "We are thrilled to partner with the Museum of Science and Industry to bring our energy and passion to this important cause."
The evening will start with guests enjoying cocktails and hors d'oeuvres in the annual Black Creativity Juried Art Exhibition, featuring more than 100 original works of art from African-American student and professional artists. After cocktails, guests will head to the Museum's Rotunda where they will enjoy food stations provided by Sodexo. Dinner options will include a flaming wheel of cheese with house-made pasta, braised bison short rib, seafood gumbo, fingerling potato poutine, geoduck poke, grilled octopus, oysters, a dessert bar, and more.
WGN Meteorologist Demetrius Ivory will emcee the evening's presentation, and guests will enjoy live musical entertainment from Chicago Children's Choir, DJ Nick "Nonstop" Nicholson, and the Nanette Frank Jazz Orchestra.
After dinner the Museum's exhibits and hands-on experiences will be open, including the Black Creativity Innovation Studio which invites guests to use their curiosity to create tools and solutions that could one day solve challenges we face daily. Guests will also be able to explore Museum favorites including Science Storms, The Great Train Story, Numbers in Nature: A Mirror Maze, and many more.
About the 2019 Black Creativity Program
The Museum of Science and Industry's annual Black Creativity program invites students, teachers, families and the public to explore the legacy of rich contributions and achievements made by African Americans. It encourages deeper interest in science and technology, inspiring children to become the innovators of tomorrow:
Juried Art Exhibition: Opening January 14, this exhibition features with more than 100 dynamic works from both professional and amateur African-American artists from around the country, including artworks from youth artists between the ages of 14 to 17. This longest running exhibition of African-American art has been displayed annually at MSI since 1970. The Juried Art Exhibition is included in Museum Entry and open through February 24.
Innovation Studio: This hands-on workshop encourages guests to experiment and explore new ideas through making. Powered by guests' own curiosity and inspired by science-related challenges, guests will have access to a variety of materials and tools to create solutions to issues. To help inspire young inventors about future possibilities and opportunities in science, technology, engineering and medicine, the Innovator Gallery spotlights eight Chicagoans that are using STEM in communities across the city to improve health, safety, and the environment. The Black Creativity Innovation Studio runs sessions for school groups by reservation throughout the week. Public sessions are offered daily from January 21 – February 24.
Career Showcase: Families will also have the chance to speak with the experts who make and create for a living. On Saturday, February 23, the Career Showcase will offer guests the opportunity to talk with African-American scientists, engineers and artists about their jobs, inspiring the next generation of artists and STEM professionals.
Black Creativity season sponsors include The Allstate Insurance Company, NextLevel Health Partners, Inc. and TWG Partners, LLC.
The Museum of Science and Industry, Chicago (MSI), one of the largest science museums in the world, offers world-class and uniquely interactive experiences that inspire inventive genius and foster curiosity. From groundbreaking and award-winning exhibits that can't be found anywhere else, to hands-on opportunities that make you the scientist—a visit to MSI is where fun and learning mix. Through its Welcome to Science Initiative, the Museum offers a variety of student, teacher and family programs that make a difference in communities and contribute to MSI's larger vision: to inspire and motivate children to achieve their full potential in science, technology, medicine and engineering. Come visit and find your inspiration! MSI is open 9:30–4 p.m. every day except Thanksgiving and Christmas Day. Extended hours, until 5:30 p.m., are offered during peak periods. The Museum is grateful for the support of its donors and guests, who make its work possible. MSI is also supported in part by the people of Chicago through the Chicago Park District. For more information, visit msichicago.org or call (773) 684-1414.

Copyright secured by Digiprove © 2019