Last night we celebrated women in the Chicago's beverage scene at the James Beard Foundation "Raising the bar" kick off reception. Returning to Chicago for the sixth year, the James Beard Foundation's Taste America® presented a kick-off reception at The Lakewood Chicago. Raising the Bar – welcomed 200 guests to experience the city's top women mixologists while launching a full weekend of Taste America events.
Hosted by Eden in Chicago Owner Jodi Fyfe and Chef/Partner Devon Quinn, Chicago's leading ladies in mixology will created specialty cocktails in conjunction with Breakthru Beverage Illinois. Guests enjoyed a range of seasonal bites from Eden.
The esteemed lineup of local mixologists and sommeliers included:
Natalia Cardenas, CSS, Beverage Development Manager, Breakthru Beverage Illinois, Chicago
Julieta Campos, Head Bartender, The Whistler, Chicago
Jarmel Doss, Assistant Bar Director, The Aviary, Chicago
Julia Momose, Beverage Curator, Oriole, Chicago and Partner, Kumiko, Chicago
Alpana Singh, Master Sommelier; Host of Check, Please!; Owner of Terra & Vine, Evanston, IL
Check out the yummy bites and drinks we had below and make sure to head to the James Beard website (jamesbeard.org) to see the other events you have to look forward to. I plan on going to the James Beard Taste of America cooking demonstration with Chef Paul Fehibach at Sur La Table on Saturday, October 27th. For more info on Chicago's Taste of America (October 26th – 27th) head to jamesbeard.org. See below for all of the yummy pics from last nights #Raisingthebar event!
Join the conversation: @beardfoundation #JBFTasteAmerica #RaisingtheBar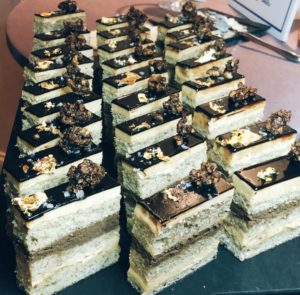 Copyright secured by Digiprove © 2018