Next month is the highly anticipated Chicago Tribune Food Bowl Festival!! August 8th – August 26th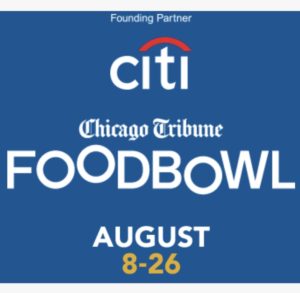 Chicago Tribune FOOD BOWL announced their programming lineup and event partners. The food and drink festival, which spans Wednesday, August 8 through Sunday, August 26, will collaborate with chefs and restaurants to offer 100+ events, in just as many locations, with Citi® as the festival's founding partner . Expertly curated events include specialty classes, test kitchens, panels and talks, pop-up bars, neighborhood tours and more.
Locals and tourists alike are invited to explore Chicago through FOOD BOWL's numerous events in diverse neighborhoods. Among these locations, participating neighborhoods include Bucktown, Edgewater, Gold Coast, Hyde Park, Logan Square, Pilsen, Ukranian Village, River North, West Loop and many more.
FOOD BOWL's "Featured Events" include participation from venues such as bellyQ, Chihuo, Frontier, Mi Tocaya Antojeria, and Chicago Tribune's very own Launch Party and Panels.
Alongside these featured events, other curated events include, but are not limited to:
Ferragosto at Oak Street Beach with Spiaggia:
Spiaggia is heading to Oak Street Beach in celebration of Ferragosto, the Italian holiday that marks the start of the summer season. Guests are invited to join Chef/Partner Tony Mantuano and Executive Chef and Winner of Top Chef Season 15 Joe Flamm for a casual beachside party on Lake Michigan. The event will include food, drinks and music on the beach, with wine selections from Beverage Director Rachael Lowe.
Ice Queens Social with The Herbarium at Bad Hunter:
Hosted by Bad Hunter's Pastry Chef Emily Spurlin, the Ice Queens Social strives to shine light on inclusivity while promoting gender, sexual, and racial diversity in bars and restaurants. Guests can enjoy frosty treats and cocktails by some of Chicago's leading chefs and mixologists, all while taking part in the community panel.
Stan's Supports the Greater Chicago Food Depository with Stan's Donuts:
Stan's Donuts will create a one-of-a-kind donut, only available during FOOD BOWL. This limited edition donut will be available at all Stan's Chicago locations, and all proceeds will bedonated to the Greater Chicago Food Depository.
Chicago Tribune is excited to announce FOOD BOWL's charitable partners will include Green City Market and Pilot Light. Green City Market is Chicago's first and largest year-round sustainable farmers market; The Market provides grounds for purchasing sustainably grown food while connecting farmers and local producers directly to chefs and the greater Chicago community. Pilot Light is a Chicago-based organization that strives to help young children make healthier food choices by providing them with knowledge and skills through various education programs.
Green City Market and Pilot Light will host multiple events throughout the festival. Events include markets, hands-on classes, collaborative dinners, and a special collaboration with Pilot Light for a hands-on "Edible Education" event with special guest appearance by Mikey DiTomasso of Masterchef Junior.
Citi® is the festival's founding partner, and sponsors include Maker's Mark, Hornitos, Effen Vodka, Suntory Whiskey Toki, Ballast Point, Kendall-Jackson, Essentia, OpenTable and Brew Dr Kombucha. For additional information visit ctfoodbowl.com and connect on Facebook, Twitter, and Instagram @ctfoodbowl (#CHIFOODBOWL)

Copyright secured by Digiprove © 2018