In Chicago we're known for our vast selection of Pizza options. Have you tried Blaze!? Blaze Pizza features an interactive open kitchen format that allows guests to customize one of the menu's generously sized personal signature pizzas or create your own, all for around $9.00. The first Blaze Pizza® restaurant opened on Aug. 6, 2012, in Irvine, Calif., by founders Elise and Rick Wetzel (Co-founder of Wetzel's Pretzels). Quickly Blaze gained attention for its chef-driven recipes, thoughtful interior design, and a service culture that celebrates individuality. Recently named '#1 Brand of the Year' in the 2017 Fast Casual Top 100, the fast-growing chain currently operates 245 restaurants in 35 states and Canada, including the major metropolitan areas of Los Angeles, New York, Chicago, San Francisco, Dallas, Las Vegas, Boston, and Toronto. Blaze has quite the celebrity following and celebrity investors that include LeBron James, Maria Shriver, movie producer John Davis and Boston Red Sox co-owner Tom Werner.
Yesterday I met up with Blaze Partner Adam Cummis at the Chicago Ontario Street location to take a tour, find out more about Blaze, and ofcourse make some pizza! We made delicious Vegetarian pizza's (and a couple with meat too). 🙂 Blaze offers a huge selection of veggies to choose from: artichoke, arugula, banana peppers, basil, bell peppers, tomatoes, chopped garlic, jalapeños, mushrooms, olives, pineapple, red onion, red peppers, roasted garlic, sautéed onion, Spinach, and Vegan Cheese. There are over 40 different ingredients and ALL ingredients are 100% clean. Meaning there are no hormones, antibiotics, or preservatives. There's also several procedures put into place in order to be sensitive to people's needs. For example, they have 3 different pizza cutters. One for regular pizzas, one for vegan pizzas, and another for gluten free pizza's. Although you can add a unlimited amount of toppings, Adam recommends you add 5 to 6 ingredients. That way you can really taste each ingredient. Adam's pizza taste evolves over time, but for now his favorite custom pizza is traditional crust, pesto sauce, mozzarella cheese, chicken, spinach, and red onion pizza.
Want to know what Lebron James gets when he stops by Blaze? 🙂 High rise dough pizza with the following ingredients (spicy red sauce, shredded mozzarella, parmesan, grilled chicken, turkey meatballs, banana peppers, cherry tomatoes, fresh basil, garlic, green bell peppers, Kalamata olives, red onions, spinach, sea salt, oregano, arugula, olive oil drizzle.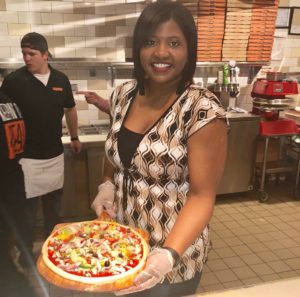 Every pizza features made-from-scratch dough crafted in house daily, all-natural meats and vegetables, and is finished in an open flame oven which cooks pizzas in three minutes flat. For guests with special dietary needs, Blaze offers gluten-free dough, vegan cheese, animal rennet free dairy, and tree-nut free pesto.  Each of these elements have assisted the brand with becoming the fastest growing restaurant in history.
To view the menu and find a location close to you visit www.blazepizza.com or www.facebook.com/blazepizza
Can't wait to head back for more Blaze Pizza!!!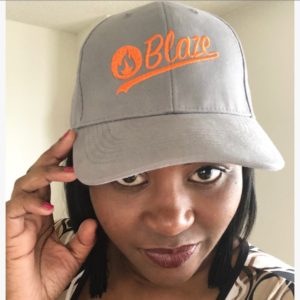 Copyright secured by Digiprove © 2018