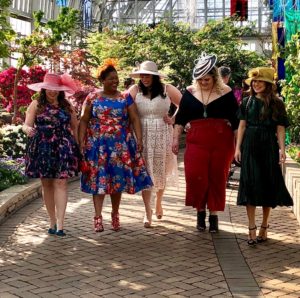 Event: Leading Ladies Luncheon
Hosted By: Daisie Foundation
When: Saturday, April 28th
Where: The W Hotel: City Center Location
Address: 172 W Adams Street, Chicago, IL 60603
Tickets/Website: http://daisiefoundation.org/
11am-12pm: VIP Leading Ladies Discussion Panel
12:30pm: Luncheon and Fashion Show
Watch the highlights from last year's Luncheon
https://youtu.be/5ROJCS7qJnw
I am super excited to be involved with the Daisie Foundation Leading Ladies Luncheon!! Last year, I was a correspondent and got to walk the run way. This year I get the pleasure of doing it again! I love interviewing our leading ladies and guests to learn what being a leading lady means to them. It makes me ponder the definition of a leading lady and if I'm living up to the responsibilities that a leading lady represents. Are you putting a 🙂 on your face every day as well as trying to put a smile on someone else's? Are you generous, kind hearted, and a role model? I believe a leading lady takes joy in supporting herself, her friends/family, and her community. If this sounds like YOU please join us for the 2018 Daisie Foundation Leading Ladies Luncheon!.
The Daisie Foundation is a non-profit that strives to change the lives of woman and children through philanthropic efforts in various communities. This Mother's Day the Daisie Foundation will be making over roughly 300 deserving Mother's!!! The Mother's being made over have overcome many of life's obstacles and this event provides them with a much needed opportunity to relax, recharge, and receive a bit of pampering with the help of generous sponsors and volunteers. Proceeds from the Leading Ladies Luncheon, goes towards helping these ladies have an AMAZING day!
Are you ready to give back to your community, help DESERVING woman, and have a fun time doing it?!? Well….you need to purchase tickets to the Leading Ladies Luncheon being held at The W Chicago City Center Location on April 28th. See below for more details!!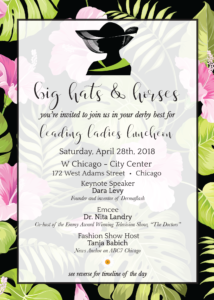 10:15Am  VIP Registration
11:00am – 12:00pm VIP Leading Ladies Discussion Panel
11:00am General Registration
12:30pm Luncheon and Fashion Show
As the perfect commencement to our annual Mother's Day Initiative, The Daisie Foundation is proud to announce our 2018 Leading Ladies Luncheon, taking place on Saturday, April 28th, 2018. We're very excited to be partnering with The W Hotel who, as our presenting sponsor, will host the luncheon at their downtown City Center location. This stunning backdrop provides the perfect setting for the event, which is quickly shaping up to be our best ever!
Featuring a Kentucky Derby-style theme (with the race happening the following weekend), all of those in attendance will be sporting their best derby hats and dresses. From there, we'll be recognizing and honoring a number of leading ladies who are making a positive impact throughout Chicago in business, education, community outreach and more. Finally, after hearing inspiring stories from our keynote speaker, Dara Levy, CEO and Founder of DermaFlash we'll round out the day with a lively fashion show featuring some of the latest affordable trends and styles of 2018. And with the help of our incredibly generous sponsors, our leading ladies will be inspired to look and feel their best, just in time for Mother's Day. Our Emcee for the event is Dr. Nita Landry from the TV show The Doctors and our fashion show host is Tanja Babich from Channel ABC7.
Plus, as a special bonus for VIP ticket holders, we are proud to announce that our distinguished Leading Lady honorees will be participating in an exclusive panel discussion prior to the luncheon. Moderated by none other than Kendra Chaplin, founder of Chicago Woman Magazine, VIP guests will get a chance to find out exactly how these empowered women lead in their own unique way, what keeps them going, and how we can all begin to lead the charge in our own lives. You won't want to miss these incredible stories and words of wisdom!
If you wish to get involved by becoming a sponsor or volunteer, please email us at events@daisiefoundation.org. You can also purchase tickets at daisiefoundation.org. Proceeds from the luncheon will benefit the Daisie Foundation's ability to serve the community through our ongoing Mother's Day Initiative, and all donations and sponsorships are tax deductible.
Please join us all in celebrating the mothers who make our community great!
Need a dress for the event? Make sure to check out The Frock Shop Dress Rentals! On March 25th The Frock Shop is hosting a styling event. 20% of all sales and rentals from this event go to support the Daisie Foundation Leading Ladies Luncheon. 🙂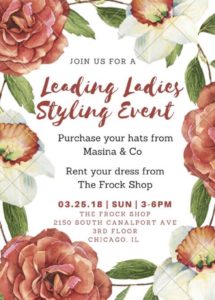 Copyright secured by Digiprove © 2018