Lights, Camera, ACTION! The 35th Annual Black Creativity Gala, hosted by the Museum of Science and Industry, was this past weekend.  The Gala is planned by a committee of prominent Chicago African-American leaders. The gala raised over $429,000 and proceeds support the Black Creativity Program. Black Creativity reaches more than 25,000 students, teachers, and families in underserved Chicago areas and enables them to inspire and transform through science education programming. The goal is to encourage African American youth to pursue educational and career paths in fields of science, engineering, medicine, and technology.
On Saturday, January 27th hundreds of guests gathered to pay tribute to the culture, heritage, and scientific contributions of African Americans.  I was blown away by all of the beautifully dressed guests that are huge staples in the African American community. As I was talking to a friend I remembered saying this is definitely a Who's Who of African American Excellence event. Such a fun time getting together and supporting one another!
"The Black Creativity Gala is a wonderful evening dedicated to inspiring the next generation of innovators, " said David Mosena, President and CEO of the museum. "This evening celebrates the achievements of African-American innovators, and encourages Museum guests to become pioneers themselves and create ground-breaking solutions to challenges we face every day."
The evening began with cocktails, hors d'oeuvres, and viewing the annual Black Creativity Juried Art Exhibition. The exhibition started in 1970 and is the nation's longest running exhibit of African American Art. More than 100 original works of art from African Americans (both professional and amateur artists) across the nation are on display. Viewing the works of art is probably my favorite part of the Gala! I love works of art that tell a story and believe me each of the art pieces told a POWERFUL Story. I highly suggest you stop by and take a look at ALL the works of art for yourself. The exhibit is open to the public until February 21, 2018. The cost is included with museum entry. There's nothing like viewing the Juried Art Exhibition at the Gala. I was asked last year if the works of art are for sale and they are. Good to know for those looking to expand their art collection. 🙂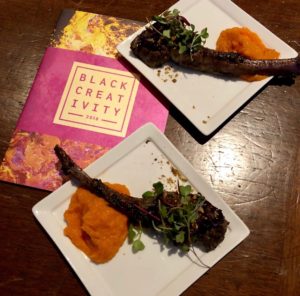 The night continued with LOTS of food and festivities! Before dinner we were able to view the Black Creativity Innovation studio and get hands on experience on becoming innovators. Our host for the evening was WGN Meteorologist, Demetrius Ivory. After cocktail hour we were led to the Museum's Rotunda where we enjoyed elegant food stations from Catering by Michaels. The food was DELICIOUS and there was a wide variety to choose from. We had everything from balsamic marinated grilled Octopus to Spicy tuna poke bowls, to duck fat fried chicken, winter panzanella salad, bourbon glazed donuts, and much much MORE. There is no way you did not leave full from this Gala!
The evening continued with several musical performances. The Englewood Children's Choir performed, Singer and NBC's "The Voice" Contestant Meagan McNeal, and DJ Nick "Nonstop" Nicholson had us dancing on our feet till Midnight. It's in understatement to say this evening was magical. I seriously had so much fun at the photo booth, dancing, and getting to view ALL the museum exhibits after hours. This is definitely a gala you want to consider attending next year. What great way to kick off Black History Month coming up!
It takes a Village to get ready for a Gala! Special thanks to the following for helping me get Gala Ready!
About the 2018 Black Creativity Program
The Museum of Science and Industry's annual Black Creativity program invites students, teachers, families and the public to explore the legacy of rich contributions and achievements made by African Americans while encouraging deeper interest in science and technology. This year's programing focuses on innovation, inspiring children to become innovators of tomorrow.
The Black Creativity Juried Art Exhibition opens January 15 with more than 100 dynamic works from both professional and amateur African-American artists from around the country, including artworks from youth artists between the ages of 14 to 17. This longest running exhibition of African-American art has been displayed annually at MSI since 1970. The Juried Art Exhibition is included in Museum Entry and open through February 21.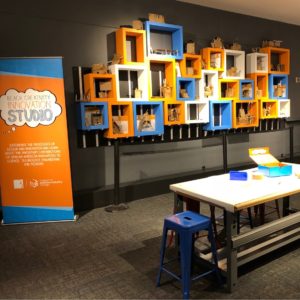 Also a part of the program is the Innovation Studio, an exciting space for guests to experiment and explore new ideas through making. Powered by guests' own curiosity and inspired by science-related challenges, guests will have access to a variety of materials and tools to create solutions to issues. To help inspire young inventors about future possibilities and opportunities in science, technology, engineering and medicine, the Innovator Gallery spotlights eight local Chicagoans that are using STEM in communities across the city to improve health, safety, and the environment. The Black Creativity Innovation Studio runs sessions for school groups by reservation throughout the week. Public sessions are offered daily from January 15 – February 21.
Families will also have the chance to speak with the experts who make and create for a living. On Saturday, February 24, the Career Showcase will offer guests the opportunity to talk with African-American scientists, engineers and artists about their jobs, inspiring the next generation of artists and STEM professionals.
Black Creativity 2018 is presented by The Allstate Insurance Company and co-sponsored by Powers and Sons Construction Company. Additional Black Creativity program partners include ComEd, Dover Inc., ITW, Nicor Gas, Northern Trust and Peoples Gas. United Airlines is the official airline of Black Creativity.
The Museum of Science and Industry, Chicago (MSI), one of the largest science museums in the world, offers world-class and uniquely interactive experiences that inspire inventive genius and foster curiosity. From groundbreaking and award-winning exhibits that can't be found anywhere else, to hands-on opportunities that make you the scientist—a visit to MSI is where fun and learning mix. Through its Welcome to Science Initiative, the Museum offers a variety of student, teacher and family programs that make a difference in communities and contribute to MSI's larger vision: to inspire and motivate children to achieve their full potential in science, technology, medicine and engineering. Come visit and find your inspiration! MSI is open 9:30–4 p.m. every day except Thanksgiving and Christmas Day. Extended hours, until 5:30 p.m., are offered during peak periods. The Museum is grateful for the support of its donors and guests, who make its work possible. MSI is also supported in part by the people of Chicago through the Chicago Park District. For more information, visit msichicago.org or call (773) 684-1414 .

Copyright secured by Digiprove © 2018-2019