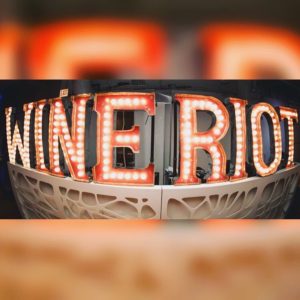 Event: Wine Riot
Where: Revel Fulton Market
Address: 1215 W. Fulton Market, Chicago, IL 60607
When:
Session 1: Friday, October 13, 7:00pm – 10:00pm
Session 2: Saturday, October 14, 2:00pm – 5:00pm
Session 3: Saturday, October 14, 7:00pm – 10:00pm
Dress Code: Smart Casual Attire. Comfy Shoes Recommended
Tickets: General Admission $65. Purchase Tixs HERE  
Like wine? Like Learning about wine? Like tasting wine? 🙂 Well grab your friends and check out Wine RIOT! Read on for more info and to see the participating vendors.
About Wine Riot: Since 2009, Wine Riot is changing the environment of a typical wine event to make Millennials feel comfortable learning, discovering and exploring wines within the expansive wine world. Featuring more than 20 wine education booths curated by region of origin or varietal, complimented by delicious food pairings, photo booths, sponsor activations and a tattoo booth, each guest is immersed in the world of wine in a fun and vibrant setting. Wine Riot offers the popular Bubbly Bar station, showcasing major styles of sparkling wine, including Cava, Prosecco, American Sparkling, Crémant, Rosé, Sekt, and Champagne, in addition to food pairings. Curated by industry experts, the Crash Courses are twenty-minute, sit-down seminars gathering both brand representatives and attendees in an intimate setting to take a deep dive into the world of wine, flavor profiles, history and tradition. Wine Riot's Wine 101 program invites attendees to learn eight wine terms through interactive tastings: Dry vs. Sweet; Old World vs. New World; Young vs. Mature; and Oaked vs. Unoaked. Wine Riot is an IWSC Group North America event. The IWSC Group is a UK-based, global events company that delights, inspires and connects people and brands through great experiences.
Participating Wine Vendors:


Alma Mora
Beaujolais
Chevalier de Bayard
Cooper's Hawk Winery & Restaurants
Finca Las Moras
Freixenet
Indaba Wines
Jam Jar Wines
LOLEA
Ménage à Trois
Run Riot
Tenuta Sassoregale
The Seeker
Torresella
Wine Trees
Yarden Wines
…and much more!
Participating Food/Non-Wine Beverage/Others
BARKThins
Chicago's Doghouse
Chiro One Wellness Centers
Da Pizza Dude
Dos Toros Taqueria
Effie's Homemade
Essentia
Getaround
Green Mountain Energy
Krave Jerky
Late July Snacks
Sugar Bliss Cake Boutique
Sugar Bliss Patisserie
Vita Coco
Wine Riot



Website: wineriot.com
Facebook: facebook.com/wineriot
Instagram: instagram.com/wineriot
Twitter: twitter.com/wineriot
See YOU there! 🙂

Copyright secured by Digiprove © 2017