Can you believe were one month away from October!?!? I don't know about you, but October to me means Fall and Halloween. I have never done well at Haunted Houses and haven't been to one since High School, but I will be putting my brave face on this year and checking out the House of Torment Chicago in Morton Grove. Pray that I make it out in one piece! For more details and to purchase your tickets scroll on to the information below. Presale tickets go on sale for 13 minutes at noon on Friday, September 1st.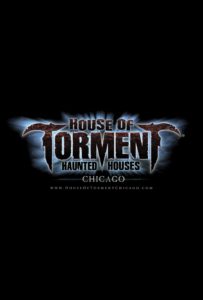 Event: House of Torment Chicago Haunted House
Where: 8240 North Austin Avenue, Morton Grove, Illinois 60053
When: September 22, 23, 29, and 30;
October 1, 6, 7, 8, 11, 12, 13, 14, 15, 17 through 31;
November 3 and 4
Cost: $19.99 to $32.99 plus tax, depending of day of the week
Plus $10 Fast Pass upgrade with a limited wait reservation in a one-hour timeslot;
$20 Skip The Line upgrade with no wait and a reserved entry time.
Free Parking
Ages: Recommended for ages 12 and up
Tickets: $13 Presale Tickets Available for 13 Minutes on Friday, September 1st at 12:00 p.m. C.S.T. Two of Chicagoland's top haunted houses, House of Torment Chicago and 13th Floor Chicago, will offer presale, discounted tickets for the 2017 season beginning on Friday, September 1, 2017, at 12:00 p.m. C.S.T. For a limited time – 13 minutes to be exact – tickets will be only $13.00 from 12:00 p.m. to 12:13 p.m. For the remainder of the hour, tickets will be $16.99, and then $18.99 through 1:00 p.m. on September 2, available online only at: http://thirteenthfloor.com/presale/.
Websites:  http://houseoftormentchicago.com/ and http://13thfloorchicago.com/.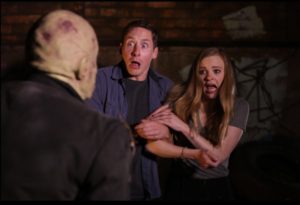 HOUSE OF TORMENT RETURNS TO THRILL CHICAGOLAND FOR
THE 2017 HALLOWEEN HAUNTING SEASON
Haunted House Runs September 22 through November 4
(Morton Grove, IL) – The nationally celebrated haunted house brand, House of Torment, will return to the suburbs of Chicago this fall to thrill for a third season. Located at 8240 North Austin Avenue in Morton Grove, Illinois, House of Torment will have two shows in one location for one price. This year's attractions will offer two new themes: The Swarm and Nightmare High: Fall Harvest, with even more actor assisted scares plus an enhanced state-of-the-art custom sound system bolstering the 10,000-squarefoot addition from last year.
In the first attraction, The Swarm, Morton Grove is under heavy lock down after a horrifying government experiment gave birth to a new breed of deadly insects and creatures. Murderous vermin crawl, crazed through the city, promising to leave no survivor unbitten. Toxic sludge, overgrown plant pods, and nightmarish critters present grisly obstacles for the brave souls attempting to escape with their lives from the gruesome torment.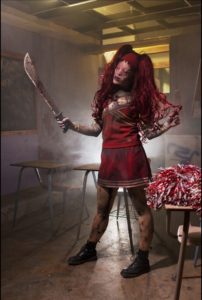 At Nightmare High: Fall Harvest, the local high school in Morton Grove has been overtaken by an unimaginable terror so deadly and demented the blood of all who enter feeds the evil entities who roam the halls. Hannah, the hauntingly hungry zombie cheerleader, is hosting a festival dance to find fresh brains to keep her evil school spirit alive. One should attempt to escape this nightmarish journey before becoming a permanent undead member of Nightmare High.
House of Torment Chicago will employ over 150 people seasonally including 75 actors, 25 front end and event grounds staff, 50 stunt personnel, control room staff, runners, and icon characters who will greet and entertain guests. The attractions, costumes, makeup, and animatronics are produced by the professional team of artists and creative engineers behind House of Torment, including featured special effects artist Evan Hedges who placed as a runner-up on season nine in 2015 on the SyFy channel's reality competition television show "Face Off" http://www.syfy.com/faceoff,  and was also a returning competitor on "Face Off All-Stars" on season eleven in 2017. This year, Hedges created a custom "Toxic Zombie" for House of Torment Chicago.
CHARITABLE:  House of Torment has partnered with Don't Be A Monster, a 501(c)(3) bringing anti-bullying programs to local schools. http://dontbeamonster.org Don't Be a Monster video: https://www.youtube.com/watch?v=-mcMMIg8A9s
SOCIAL MEDIA:
Facebook: https://www.facebook.com/houseoftormentchicago
Twitter: https://twitter.com/TormentChicago
Instagram: https://www.instagram.com/tormentchicago/
About House of Torment Chicago:
The nationally celebrated House of Torment is now entering its third year in the Chicago area. Most comparable to a trip through a modern horror movie with detailed story sets, animatronic monsters, iconic characters, and chilling scenarios, the attraction is part of the Thirteenth Floor Entertainment Group's conglomerate. The Colorado-based purveyors of mayhem feature eight haunts nationally and began working in 2002, opening attractions in Austin, Denver, San Antonio, Phoenix, and Chicago. Open for the Halloween season and other events year-round at 8240 North Austin Avenue, Morton Grove, Illinois 60053, please call 224-888-1031 or visit http://www.houseoftormentchicago.com for more information.
About Thirteenth Floor Entertainment Group:
Thirteenth Floor Entertainment Group is the only company and brand in the country to produce haunted houses on a national scale, with houses in Denver, Austin, San Antonio, Phoenix, and Chicago. Designed by world-renowned haunted house designers and featuring makeup and effects from Hollywood special effects artists, their haunted houses span four states and take fright to a whole new level with different interactive events like Valentine X, the Great Room Escape, and Zombie Apocalypse Live. http://thirteenthfloor.com
About Don't Be A Monster:
Don't Be A Monster is the core program of Imagine Better, Inc. a 501(c)(3) strategic outreach company founded in 2012 by haunted house owners. Their mission is to educate and empower youth to be leaders in their school around diversity and inclusiveness and show them how to stand up for their friends and peers. The Don't Be A Monster program partners with local area haunted houses and area nonprofit organizations and schools to deliver assemblies to 4th through 9th grade students. Programs are delivered in the months of September and October during National Bullying Prevention Awareness Month and the Halloween season with an engaging and entertaining presentation. http://dontbeamonster.org

Copyright secured by Digiprove © 2017