During the month of July, Sprinkles Cupcakes (50 East Walton), Chicago will sell its most iconic Red Velvet flavor adorned with Elizabeth Taylor's trademark beauty!  Elizabeth Taylor defined modern day celebrity and is Hollywood's ultimate icon. Sprinkles will donate 10% of proceeds to The Elizabeth Taylor AIDS Foundation which carries on her legacy work and continues her fight against AIDS, supporting people affected by HIV and AIDS around the world.
About Sprinkles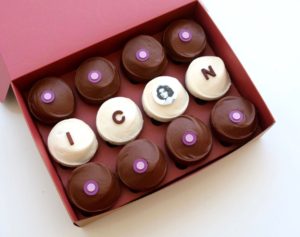 Sprinkles opened "the world's first cupcake bakery" in Beverly Hills, as reported by the Food Network, and is credited by the Los Angeles Times as "the progenitor of the haute cupcake craze."  Founded by Candace Nelson, judge on Food Network's hit show "Cupcake Wars," and husband Charles, Sprinkles has inspired long lines of devoted Hollywood stars and serious epicureans alike.  From Tom Cruise to Oprah Winfrey, Blake Lively to Ryan Seacrest, celebrities are abuzz about Sprinkles!  Baked fresh in small batches throughout the day, Sprinkles Cupcakes are handcrafted from the finest ingredients and contain no preservatives, trans fats or artificial flavors.  Sprinkles has locations nationwide, a traveling Sprinklesmobile – the world's first cupcake truck, and sells its cupcake mixes at over 250 Williams-Sonoma stores throughout the US and Canada.  In 2012, Sprinkles debuted the world's first Cupcake ATM and continued its foray into classic American desserts with the launch of Sprinkles Ice Cream & Cookies.  "The Sprinkles Baking Book" hit the New York Times Best Sellers list in October, 2016.  For additional information and a list of future locations, please visit www.sprinkles.com
About The Elizabeth Taylor AIDS Foundation
ETAF was established by the legendary actress, Elizabeth Taylor in 1991 to provide grants to existing organizations offering direct support for people living with and affected by HIV and AIDS. Since its inception, ETAF has concentrated on assisting the most marginalized communities and has expanded funding to innovative HIV prevention education and advocacy programs. As a pioneer in celebrity-led philanthropy, Elizabeth Taylor set up her Trust in a way that covers ETAF's operating expenses. Therefore, 100% of every dollar raised for ETAF makes a direct impact on the lives of people affected by HIV and AIDS around the world. To date, ETAF has granted to more than 675 organizations in 44 countries, and 42 states in the U.S. There are still more than 1.1 million people in the United States living with HIV, and 1 in 7 of them don't know it. Visit ETAF.org to learn more and support the fight against HIV/AIDS.

Copyright secured by Digiprove © 2017