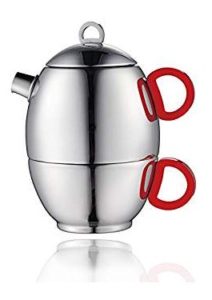 Tea for one please! I LOVE the look and modern design of the Minos Polished Tea Pot For One.  When you're looking to unwind and make the perfect small cup of tea this set does the job. First off the design is not only practical, but beautiful as well. The handles are made of silicon and are heat resistant, so no burning yourself on a steaming tea kettle. The Polished Stainless steel crafted design is so sleek that you want to display the tiny tea set for others to see. I keep it out on my counter and it blends in perfectly with any décor.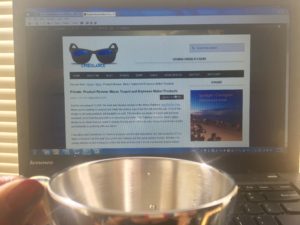 I live alone and sometimes it's hard to measure out the right amount for one, but using the 8.5 Oz Minos Polished Tea Pot and Cup set for one I always get the same perfect results. Whether I'm writing articles or just looking for a little me time and serenity I turn to my favorite teapot maker!
My sweet tooth won't let me drink a plain cup of tea, so I load mine with A LOT of sugar and a dash of honey. The perfect accompaniment to the Tea pot/Cup set is the Minos Stainless Steel Sugar Bowl with Lid.  The lid fits snuggling and keeps my sugar fresh with no annoying clumps.
Want to experience Mino's products for yourself. Well you're in luck because Chi@Glance followers get 15% off when you use PROMO Code: CHIATAVI
Check out the whole Minos Product line exclusively sold  on Amazon and remember with PROMO code: CHIATAVI you get 15% off any product you choose. *Products can be shipped anywhere in the US*
Espresso Maker http://amzn.to/2lBLscq
Teapot http://amzn.to/2lBJkl4
Teapot For One http://amzn.to/2m7eBdc
Sugar Bowl  http://amzn.to/2m3uPre
Creamer Pitcher http://amzn.to/2kUcyHH
518 Espresso Maker  http://amzn.to/2nzDxh6
518 Teapot http://amzn.to/2o7qArD
518 Sugar Bowl http://amzn.to/2mTaOzf
518 Creamer Pitcher http://amzn.to/2mWXbQG
518 Coffee Pot  http://amzn.to/2nFq0Vd
518 Espresso Cup http://amzn.to/2nFsFhP

Copyright secured by Digiprove © 2017