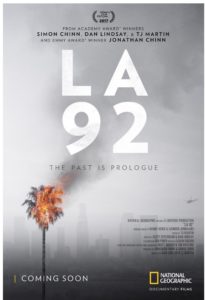 National Geographic Documentary Film "LA 92" airs on the National Geographic Channel on Sunday, 4/30 at 9/8 c. Tavi J from Chi@Glance attended the Chicago Screening of the film hosted at the River East AMC theater on Tuesday, April 25th.
Back in 1992 I was a seven year old living in Chicago. I knew of the LA riots and the name Rodney King, but I didn't quite grasp what was going on. Fast forward 25 years and it's sad to say the same "problems" are still incurring and the same "issues" still need to be discussed. Rodney King was an African American taxi driver that became internationally known after being beaten by Los Angeles Police Department officers following a high speed car chase. A witness filmed the beating that aired around the world. Several of the officers were acquitted, which led to the 1992 LA Riots and also brought to light police brutality that occurs.
To mark the 25th Anniversary of the LA Riots Academy Award Winning directors Dan Lindsay and TJ Martin directed the National Geographic documentary film LA 92. This modern day documentary film uses more than 1000 hours of material footage (some footage rarely scene) to show different vantage points in taking a look back at the Rodney King trial and the LA protests that followed. The nation is still at odds over racial oppression and with social media several injustices have been brought to light. It's no longer a "he said, she said" argument with several citizens taking action and filming injustices occurring all over the world. With video recordings it's clear to see there is a problem and films like LA 92 get the discussion going once again.
I attended the Chicago LA 92 Screening at the AMC River East last night (Tuesday, April 25th). There are really no words to express the feeling when watching the film. The ache you feel in your chest knowing the same issues are still occurring with no real strides being made is painful. It makes you start thinking when are we going to not just keep discussing the problem, but addressing the issues head on? I have no answer to that question, but I do know that once the discussion ends….there is no foreseeable solution. For that reason I do believe the discussion must go on.
After the film Fox 32 anchor Darlene Hill moderated a conversation with directors Dan Lindsay and T.J. Martin. Make sure to check out The Documentary film LA 92. It airs on the National Geographic Channel this Sunday, April 30th 9/8c. For more information on the documentary film LA 92 check out the press release below.
NATIONAL GEOGRAPHIC DOCUMENTARY FILMS AND
ACADEMY AWARD WINNING DIRECTORS DAN LINDSAY & TJ MARTIN
MARK THE 25th ANNIVERSARY OF THE LOS ANGELES RIOTS
WITH THE POWERFUL NEW FILM LA 92

Produced by two-time Academy Award® winner Simon Chinn and Emmy® award-winner Jonathan Chinn, with original music by acclaimed composers
Danny Bensi and Saunder Jurriaans
Using only archive material drawn from more than 1000 Hours of powerful footage,
LA 92 reconstructs the tumultuous days that changed America
LA 92 premieres at the Tribeca Film Festival on April 21, followed by a multi-city tour, theatrical release in NY and LA and broadcast debut on National Geographic.
WASHINGTON, D.C. – March 30, 2017) – Ferguson. Baltimore. Sanford, Florida. The Los Angeles Riots may have taken place a quarter century ago but the nation continues to find itself in a cycle of heated discussion over racial oppression, police brutality and socioeconomic inequality.
Now, 25 years later, National Geographic Documentary Films presents LA 92, a riveting look back at the controversial Rodney King trial and subsequent protests, violence and looting of the city. Viewed from a multitude of vantage points through visceral and rarely seen archival footage, the film brings a fresh perspective to a pivotal moment that reverberates to this day. Produced by Lightbox's two-time Academy Award winner Simon Chinn ("Man on Wire") and Emmy winner Jonathan Chinn ("American High") with Academy Award-winning directors Dan Lindsay and TJ Martin ("Undefeated") and featuring original music from Danny Bensi and Saunder Jurriaans ("OA". "Enemy"), LA 92 premieres at the 2017 Tribeca Film Festival on Friday, April 21.
"Race relations is America's Achilles heel," said Lightbox producers Jonathan Chinn and Simon Chinn. "The production of this film might mark the 25th anniversary of this seminal uprising, but these kind of events still recur, and we are still dealing with their root causes. Our goal with LA 92 is to reframe the story of this tragedy for a modern audience, and we hope it will encourage reflection and debate as we wrestle with these very real conflicts that continue to plague America's cities."
Following the premiere at Tribeca, the film will complete a multi-city screening tour including Baltimore, Charlotte, St. Louis, Washington, D.C. and Atlanta. Additionally, a limited theatrical release in New York and Los Angeles begins Friday, April 28, and LA 92 makes its television broadcast debut on National Geographic on Sunday, April 30 at 9/8c and will also air globally in 171 countries and 45 languages. Furthering the national conversation, National Geographic has also partnered with Picture Motion to provide free screenings of the film to colleges and universities nationwide and developed a robust free discussion guide to accompany the film. For more information, visit: natgeotvpressroom.com
Using no narration or talking head interviews, the filmmakers decided to take a bold approach: to reconstruct the tumultuous events that unfolded in 1992 by exclusively using archival footage and photographs. Culling thousands of hours of visceral and rarely seen broadcast news footage, radio reports, police files and personal home videos – some of which has never been broadcast – the filmmakers tell the story through a variety of different points of view and perspectives and set it all to a rich orchestral score composed by Danny Bensi and Saunder Jurriaans.
"We come from a cinema verité background and as such, we are always striving to find ways to let the footage speak for itself," said Martin and Lindsay, who also edited the film. "Our intent was to fully immerse viewers in a raw and unfiltered experience in order to challenge their understanding of the civil unrest, both emotionally and intellectually."
The filmmakers sourced an intricate network of citizen journalists with boots on the ground during the civil disturbance to bring authenticity to the film. The film features never-before-seen and rarely used footage from the Los Angeles First AME Church who supported many victims of the violence, to materials from the Los Angeles police and fire department, to video from contemporaneous news broadcasts from LA-based Korean-language television stations, LA 92 takes viewers out of the prism of their own cultural, racial and political perspectives and allows them to see the events of 1992 in a new light.
The film captures the shock, disappointment and fury felt by many Los Angelenos, particularly those in the African-American community, following the outcomes of two back-to-back and highly publicized trials. In November 1991, a Korean convenience store owner who was convicted of fatally shooting African-American teenager Latasha Harlins was given no jail time by a white Los Angeles judge. Six months later, four police officers caught on videotape brutally beating unarmed black motorist Rodney King were acquitted of assault by a predominantly white Simi Valley jury.
The King verdict sparked a wave of violent protests, looting and arson that lasted several days and left more than 50 people dead, thousands injured and large swaths of Los Angeles — including many Korean-American-owned businesses — in ruins.  And in the case of the King beating, it was the first time the kind of abuse many had witnessed or experienced at the hands of LAPD officers was recorded and broadcast for the world to see, leaving some with the sense that if justice did not prevail despite such graphic evidence, it never would.
For more information, visit natgeotv.com/la92.
NATIONAL GEOGRAPHIC PRESENTS A LIGHTBOX PRODUCTION
LA 92
ORIGINAL MUSIC BY DANNY BENSI & SAUNDER JURRIAANS
EDITED BY TJ MARTIN
EDITED BY SCOTT STEVENSON DAN LINDSAY
CO-PRODUCER BEN PINER PRODUCER SARAH GIBSON
EXECUTIVE PRODUCERS FOR NATIONAL GEOGRAPHIC
MATT RENNER TIM PASTORE
PRODUCED BY JONATHAN CHINN & SIMON CHINN
DIRECTED BY DAN LINDSAY & TJ MARTIN
About National Geographic Documentary Films
National Geographic Documentary Films is committed to bringing the world premium, feature documentaries that cover timely, provocative and globally relevant stories from the very best documentary filmmakers in the world.  National Geographic Documentary Films is a division of National Geographic Partners, a joint venture between National Geographic and 21st Century Fox.  Furthering knowledge and understanding of our world has been the core purpose of National Geographic for 129 years, and now we are committed to going deeper, pushing boundaries, going further for our consumers … and reaching over 730 million people around the world in 171 countries and 45 languages every month as we do it. NGP returns 27 percent of our proceeds to the nonprofit National Geographic Society to fund work in the areas of science, exploration, conservation and education. For more information visit natgeotv.com or nationalgeographic.com, or find us on Facebook, Twitter, Instagram, Google+, YouTube, LinkedIn, and Pinterest.
About Lightbox
Headquartered in London and Los Angeles, Lightbox is a multinational media company focused on creating high quality non-fiction programming for film, television and digital platforms, founded by Academy Award and Emmy winning producers and cousins Simon Chinn and Jonathan Chinn.
Simon Chinn is one of the world's most successful feature documentary producers with two Academy Award-winning documentaries, Man on Wire and Searching for Sugar Man, to his credit.
Before co-founding Lightbox, Jonathan Chinn was one of the most respected non-fiction television showrunners in the US, with an Emmy for American High (Fox/PBS) and the Television Academy's prestigious Honors Award for 30 Days (FX), the latter of which went on to become FX's highest rated unscripted series.
Since its founding in 2014, Lightbox has produced many notable projects including documentary films Atari: Game Over and The Thread, which comprise a two-part documentary series for Xbox Entertainment Studios about the digital revolution; an ESPN 30 for 30 film about the 2006 Duke Lacrosse scandal entitled Fantastic Lies; as well as several series for both the UK and US markets such as The Traffickers for Fusion, Inside British Vogue for BBC, The Runner-Up for Esquire, and the groundbreaking series Captive for Netflix. Slated for release in 2018 is the first ever authorized feature documentary about legendary pop icon Whitney Houston.
MEDIA CONTACTS:
Erin Griffin, National Geographic, 202-912-6681erin.griffin@natgeo.com
,
Kristin Montalbano, National Geographic, 202-912-3244kristin.montalbano@natgeo.com
,
Caitlin McGee, MPRM, 323-933-3399cmcgee@mprm.com
ext. 4260,
Michelle Marron, MPRM, 323-933-3399mmarron@mprm.com
ext. 4243,

Copyright secured by Digiprove © 2017