Roses are Red, Violets are Blue….I had so much fun at the First Look for Charity Auto show Gala that I want to share with YOU! Corny….I know, but I do have some exciting news regarding the 2017 Chicago Auto Show. First off….It's going on NOW! The show started on Saturday, February 11th and goes through February 20th at McCormick Place. The Chicago Auto show started in 1901 and is the longest and largest running auto show in North America. 2017 marks the 109th annual show.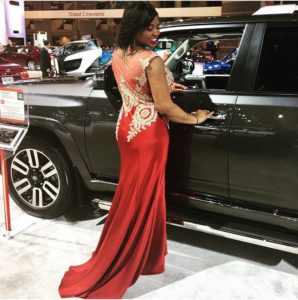 As I always say….before every show there's a pre party and the First Look For Charity Gala is the official kick-off party for the Chicago Auto show. What's better than getting a first look at the cars while supporting several good causes. First Look for Charity is one of Chicago's greatest one day fundraisers. The event raises more than $2.5MM for 18 area non- profits.  Stylish attendee's get all dressed up to enjoy live entertainment, fine dining food, and get to preview ALL there is to offer at the auto show FIRST! If that isn't enough attendee's get a chance to win a 2017 Acura TLX or Lexus NX. It's such a fun night and ALL for a good cause.
The Chicago Auto Show exhibits include nearly a 1000 domestic and imported vehicles. There are numerous interactive exhibits, concept vehicles, and antique and collector cars. I want to give you some insight on what to see at the auto show, so here's my FAVS!
I had to start off with my dream high school car….the Chevrolet Camaro.
This car screams rugged and sexy to me. I never owned one, but I always thought they were so sleek looking. The Camaro this year celebrates it's 50th year anniversary and is still looking better than ever. The base price for this beauty is $27,300.
Moving on we strolled over to the Toyota section cause hey they were giving out Cubs World Championship Beanies and we had to get our hands on one of those! Also my sister is a huge fan of Toyota and owns a Toyota Camry. We got to take a test drive in Toyota debut vehicle the CH-R. The Toyota CH-R is an all NEW crossover from the brand. We had so much fun during the test drive. My take away was this vehicle would be PERFECT for San Francisco and all the hilly landscape there. There's smart phones and I would say this is a "smart car". Make sure to take the test drive and check out ALL the cool features it brings to the table.
Not featured…..cause I don't want to spoil the surprise (and my camera ran out of picture space) 🙂 is the 2017 Chevrolet Lego Batmobile. This concept car was AWESOME!!!! It's a life size version of the Lego Batmobile and constructed from more than 350,000 lego bricks. You must check it out! It took 222 hours to design and 1,833 hours to build. Now that's some dedication!!!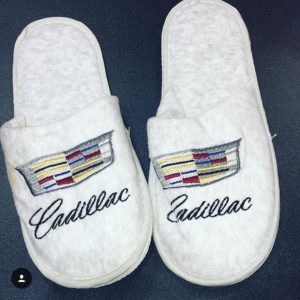 Next year I really implore you to check out the First Look For Charity Auto Show. Don't get me wrong I love the Chicago Auto Show, but seeing it in a more intimate environment can't be beat. Plus it's so much fun to be dressy around all these stylish vehicles. The show room floor is huge, but companies like Cadillac help the ladies out by supplying us with slippers. 🙂 I was hoping they did this again this year. I lasted about a good 2 hours in my heels and then it was slippers the rest of the night. 🙂
There was live musical entertainment, food from several fine dining establishments, and my favorite the Don Julio Truck! Ooooh I could go for another Red Headed Stranger drink (Don Julio Blanco, Fresh Watermelon Juice, Fresh Lime Juice, Agave Syrup, and watermelon wedge).
Last, but not least for those with kiddo's and even without should check out Ford's  #HanktheRobot. Hank has been to several of the auto show's. He keeps the kids entertained and offers some comedic relief.
Make sure to head on over to the Chicago Auto Show and check the site for details. It's helpful having the map to navigate and make sure you don't miss anything.
How did I get my look for the First Look For Charity Black Tie Gala?!? Well I couldn't have done it without the following……..
The Frock Shop
2150 S Canal Port Ave, #3A-10
Chicago, IL 60608
877-376-2571
Amazing Lash Chicago
334 E Ohio Street
Chicago, IL 60611
872-228-5274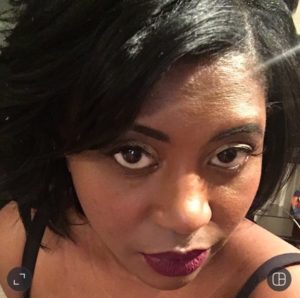 Hair: Van Cleef Hair Studio
Hair Stylist: Rahni
56 W Huron Street
Chicago, IL 60654
312-751-2456
Makeup: Sephora (Water Tower Place)
Make Up Artist: Jasmine
845 N Michigan Avenue
Chicago, IL 60611
312-335-9391

Copyright secured by Digiprove © 2017