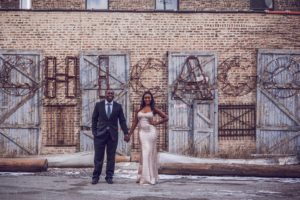 With the holiday season around the corner, you also have to gear-up for engagement season! That time of year when you're inundated with texts, emails and post from your friends, relatives, and distance high school friends flashing their best smile next to their new accessory, their engagement ring. They immediately go on a worldwide tour, flashing the rock, sharing their engagement story and beaming from ear to ear. 🙂 How do I know this….I was that girl last December when my then boyfriend proposed. Based on my wedding planning experience, I want to share with you my top five tips that I learned along the way in hopes of reaffirming that it's going to be okay and yes, it's OKAY to be over planning….. and contemplating eloping.
Just to ensure that we are on the same page, I mentioned that I got engaged in December 2015 and we landed on a May 2016 date. To help you do the math, that's roughly 4 months to plan and execute a 65-person destination wedding without the assistance of a wedding planner. How did I do it you ask, check out my best practices below that were pivotal.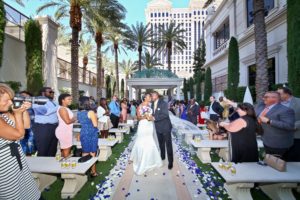 1) Know and be realistic about your budget.
Believe what you hear, weddings are very expensive and its really easy to get carried away without keeping your budget in mind. I advise you have a candid conversation with your significant other and others that might be contributing to the wedding. Once you have a clear picture in mind, reduce that budget by 5-10% since most brides go over their budget. Additionally, decide what's most important to you and your significant other whether it's the food, photography, DJ, etc. and rank them accordingly. This list is important since you may need to make budget concessions, and the list can make reducing costs a little easier. Tip: Since you are going to rack up the bills, you might as well rack up points as well. Check with the various credit card companies to understand any promotion deals that you can take advantage off. Just make sure that you can pay them off in-full to avoid any fees.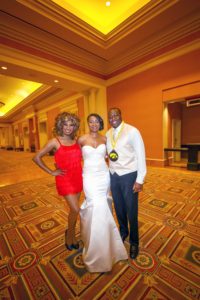 2) Do you and own your wedding ideas.
Family and friends are going to come out of the woodworks with suggestions and ideas that you should consider. Regardless if you have been planning your wedding since you were five, or started to explore wedding ideas pre-engagement, guilty as charged, you probably have a rough idea of your wants, needs, and must-haves. Don't let others down your ideas. Since my then finance and I decided that we would get married in Las Vegas, we wanted to ensure that we had at least one Vegas-inspired experience for our guests. We ended up hiring a Tina Turner impersonator which was a huge hit and she really got the party started for us. Tip: Pinterest should become your best friend since its an amazing source for all things wedding. Also by doing a simple google search, you will open the door to five million+ sites, blogs, etc for additional inspiration.
3) It takes a village to bring your vision to life and its okay to ask for help.
Approach your wedding like a project at work. Identity your stakeholders, task, budget line items and most importantly, divide and conquer. It's very easy to overlook your significant other as a stakeholder but she/he can be, especially if planning for the wedding isn't their thing and they just want to show up. That happened to me so to ensure my then finance was part of the planning process, whatever decision I had to make, I would narrow down the choices to my top three and ask him to be the tiebreaker. That way he got involved and it was one less solo decision I had to make. Tip: If you are doing all of the planning yourself, hire a day of assistance who can execute the day on your behalf. This is the only regret I have from my wedding even though the day turned out great.
4) Treat yourself for accomplishing milestones.
Planning is very stressful and it's important to reward yourself during this time. Whatever puts a smile on your face whether it's getting a massage, taking a cooking class, or buying yourself something new (that is non-wedding related), the idea is to escape wedding planning mode. Tip: Try to do something nice for yourself at least once a month and be sure to put it on your calendar as a reminder.
5) Have a blast. 
You put in all of this time and effort and it's time to reap the benefits. Enjoy every minute of it as the day flies by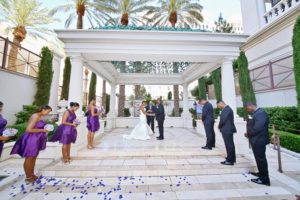 The one elephant in the room I didn't address is why a destination wedding and please find my rationale below:
I'm originally from Michigan and my husband is from Florida. Regardless where we were going to get married, most folks would have to travel so we picked Vegas because it was in the States and obviously didn't require a passport, it could accommodate most budgets, and guests could turn our wedding into their own personal vacation because, let's face it, who doesn't love Vegas!
You can limit your guest list since everyone will not be able to attend. This is a blessing in disguise since wedding prices tend to add up as you have more guest. Since we knew that a number of people couldn't attend, we did a few things to accommodate these potential guests. We had an amazing wedding site we were able to post the recording of our wedding fours hours after the actual event so folks could watch us exchange our vows from the comfort of their own home.
Most good wedding venues are booked at least a year in advance and given the short planning time, we could either wait up to a year or look for a destination.
Since I served as a wedding planner and bride, I didn't want the hassle of managing multiple vendors and wanted one point of contact for everything. With a destination wedding, you are assigned 1 – 2 wedding coordinators who act as your wedding concierge and help guide you through the planning process.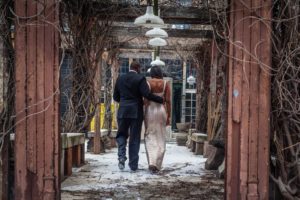 I hope you have found my tips and insights helpful as you plan for your big day and just remember, the wedding is only a day but the vows will last a lifetime. 🙂
Follow along with Crystal B. on Instagram @UnleashingInspiration

Copyright secured by Digiprove © 2016