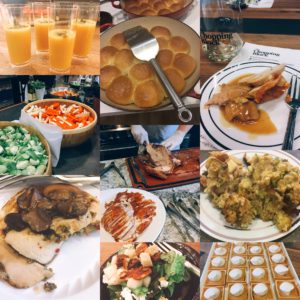 I LOVE how food is the one common denominator that brings people together. Food isn't just substance for the body. There's a HUGE social component in every culture that revolves around food. In America, Thanksgiving is definitely a "Social Food" holiday. It's one of my favorite holidays because it's about giving thanks for what you "already" have….oh and YES the FOOD component!
On November 19th The Chopping Block hosted a Taste of Thanksgiving! For those of you not familiar with The Chopping Block, their a recreational cooking school that has been in Chicago for 20 years. They provide a unique experience by combining education and entertainment. They also have an amazing store front where you can buy various cooking supplies and food products.
I was so happy to attend one of their biggest 3 hour indulgence feast that was…. "The Taste of Thanksgiving!" The chopping block has spent the last 20 years perfecting their Thanksgiving recipes. They transformed the entire Merchandise Mart location into a Thanksgiving themed party. Guests were treated to the following:
Taste and learn how fourteen different dishes are prepared

Chopping Block Dinner Salad
Butternut Squash and Apple Bisque
Sage Stuffing
Cornbread Oyster Stuffing
Garlic Mashed Potatoes
Sweet Potato and Gruyere Cheese Gratin
Glazed Root Vegetables
Brussels Sprouts with Maple Mustard Glaze
Cranberry Tangerine Sauce
Cranberry-Apple Relish
Brined and Roasted Turkey with Gravy
Turkey Breast Roulade with Red Wine-Mushroom Sauce
Homemade Dinner Rolls
Apple Pie

How to carve a turkey

( I still need more help with this one…..lol)

Wine Pairings

– Experts help pair eight different wines with the perfect holiday feast.
Check out some of pics and recipes from the event below! Make sure you keep scrolling down because I'm also sharing with you a super fun New Year's Eve event the Chopping Block is hosting this year.
Here's Six of my favorite Recipe Cards from the event:
You may have missed out on all the Thanksgiving fun, but don't be left in the cold for New Year's Eve! Check out the super fun Chopping Block New Year's Eve event below!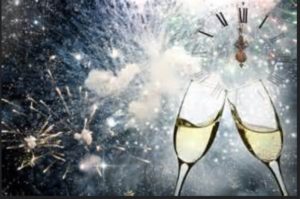 New Year's Eve Extravaganza
Saturday, December 31
6pm-9pm
The Chopping Block at the Mart
$175/person
Register at: http://atyourschool.youritdept.com/tcb/jsp/ViewEvent.jsp?CALTYPE=M&eventId=199068
Do something different this New Year's Eve! Experience an incredible evening featuring the best The Chopping Block has to offer. Join us for a wine-fueled culinary fête as you eat, drink and mingle your way through this special event. Each kitchen will offer a new adventure for your palate and its own unique pairings of food and wine.
We will transform our entire Merchandise Mart location into a festive party where you will have the opportunity to taste and learn how ten different celebratory dishes are prepared. Watch our chefs demonstrate these tasty morsels while enjoying ten different varieties of wine. Enjoy passed hors d'oeuvres upon arrival and finish the night with an assortment of desserts to get you ready to ring in 2017.
Stations include: Apple and Dried Cherry Salad with Maple Dressing and Fennel-Spiced Nuts; Chestnut Bisque with Chives and Crème Fraîche; Spinach Gnocchi with Gorgonzola Cream Sauce; Butternut Squash Tortellini with Hazelnut Brown-Butter Sauce; Red Wine-Braised Short Ribs with Horseradish Whipped Potatoes; Roasted Rack of Lamb with Fennel and Pomegranate Glaze; Seared Scallops with Sautéed Mushrooms and Hazelnut-Herb Pesto; Chicken Cordon Bleu with Apple Cider Gastrique and Bacony Brussels Sprouts; Lobster Risotto with Fresh Herbs; Escargots with Parsley and Roasted Garlic Cream. Some of the desserts featured this evening will include Whoopie Pies; Homemade Marshmallows; Macarons; Sticky Toffee Pudding and more! 🙂
Register at: http://atyourschool.youritdept.com/tcb/jsp/ViewEvent.jsp?CALTYPE=M&eventId=199068

Copyright secured by Digiprove © 2016