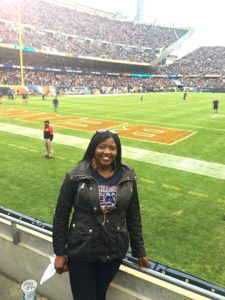 I'm not really into sports, but I am into socializing and live entertainment. 🙂 On Sunday, October 2nd I got to do BOTH at the Chicago Bears Vs. Detroit Lions football game. I happen to know going into the stadium that the Bears haven't won one game this season. Well I guess I was their lucky charm cause they scored a WIN! (17-14).
I'm about to make you jealous cause Chi@Glance got complementary tickets to sit in the friends/family section of the game….that means ROW 2!!! I have never been that close at a football game before and I want to share with you some highlights and what to expect when heading to a football game at the iconic Soldier field Stadium in Chicago.
First off….don't think you can just walk in last minute and go straight to your seats. My friend and I were lucky we left out early because Solider Field is HUGE!!! We left my place in the Gold Coast at 10:30am and made it to our seats right at Kickoff at noon.
Few Tips when heading to the Stadium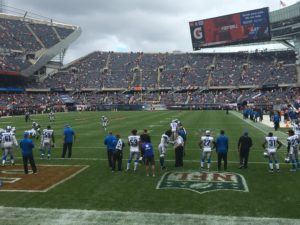 Remember the NFL now has strict policies on what they allow into the stadium. Make sure to check out the site. I'm glad I did because I saw that ladies can only bring a small clutch bag and it must fit within a 1 gallon clear plastic bag. http://www.nfl.com/qs/allclear/index.jsp
Take Public transportation!!! Unless you want to pay around $60.00 to park your car… take the train/bus. I came from the North side and we hopped on the red line, got off at Roosevelt and walked on over to the stadium from there (quick walk).
Either tailgate or leave plenty of time to get to your seats. The stadium is huge and we took so many different wrong turns to find the Will Call area. They check tickets and you have to go through the correct gates.
Be prepared for the elements. Don't waste time having to run inside if it rains. I was prepared with a raincoat so the drizzling rain did not interrupt my experience. Same goes for those late fall games where you'll need to be prepared with gloves, hats, etc….
Be prepared to pay expensive food prices. A hotdog was $7.25 (no sides or drinks)! Remember you're paying for the experience.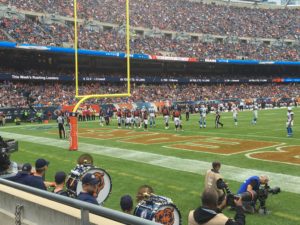 So back to Solider field. Solider field is a historic stadium dedicated to the men and women that served in the armed services. It's also the home of the Chicago Bears football team. If you haven't been before Solider field also hosts many different events from concerts, to races, to private events. If you get a chance you should definitely tour the stadium.
I'm so thankful to have had the experience to sit up close! Any seat in the house though will bring about a fun experience and memories of a lifetime!
If you don't want the fun to end after the game here are some bars close by the stadium in the South Loop.
Bar Louie – 47 W Polk St
First Draft – 649 S Clark Street
Jimmy Greens – 825 S State Street
Flo & Santos – 1310 S Wabash Avenue
Wabash Tap – 1233 S Wabash Avenue
The Scout – 1301 S Wabash Avenue
Weather Mark Tavern – 1503 S Michigan Avenue
Go Bears!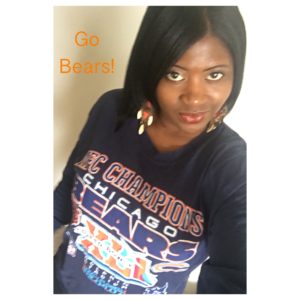 Copyright secured by Digiprove © 2016