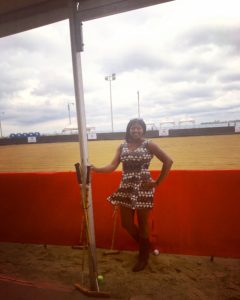 I attended my first polo tournament located at North Avenue Beach this past weekend! The Chicago Beach Polo Cup was September 9th – 11th with various activities and festivities. The Cup debut in Chicago back in 2011 and was brought back this year.
The weekend kicked off with some pre-event festivities. On September 7th I headed on over to the Flirty Girl Fitness studio to meet the Chicago Polo Founder, Gustavo. The party also consisted of meeting the polo players, taking pics with the ponies, mingling, dancing, eating, and an all around FASHIONABLE good time. I loved seeing what everyone was dressed in! Of course, I was excited to see one of my favorite newscasters I watch every morning on CLTV, Courtney Hall. It was a great event! Guests paid $20.00 to attend and all ticket sales were 100% donated to the Susan G. Comen foundation.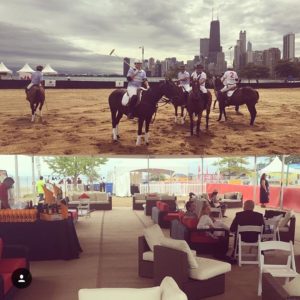 The Chicago Beach Polo Cup started on Friday with opening ceremonies. I made it to the Saturday tournament and when I showed up I was excited how cute the set up was. I watched from the VIP tent and you couldn't help but be amazed with how beautiful our city is. Seeing the horses race around with the backdrop of the city skyline was definitely picture perfect.
I'm not going to lie I know nothing about Polo, but the enthusiasm of the announcer and crowd got me interested. Polo is pretty much referenced as "Hockey on Horseback" Six teams competed this weekend to become the Chicago Beach Polo cup champions. The winner this year was the Wales team led by Ricky Cooper.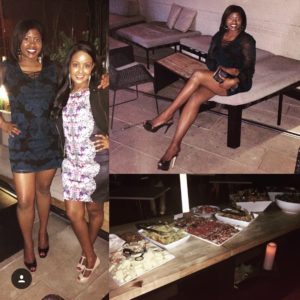 Well…as you know after the show is the "after party" and party we did at the J Parker rooftop in Lincoln Park. Players, media, and special VIP guests were invited to sit back, relax, dance, mingle, drink and feast upon a tasty dinner at the beautiful 360 degree view rooftop. Weather was perfect and it was a beautiful night.
Except for the rain not cooperating here and there I had a GREAT time this weekend being immersed in the sport of Polo. I'm making it a goal to attend more live sporting events. Great experience!

Copyright secured by Digiprove © 2016