Yesterday was every makeup junkie's dream. I got to attend the Pre-Opening of the Sephora on Michigan Avenue! I LOVE Beauty products and I LOVE Sephora. The Michigan Avenue location is huge and they are using cutting edge technology to advance their digital platform. Attendee's got to get mini makeovers and use the beauty bar to help inspire new looks. Check out the press release below!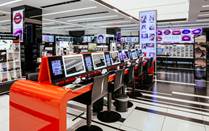 SEPHORA OPENS ITS 400th STORE AND BRINGS ITS TEACH, INSPIRE AND PLAY APPROACH TO CHICAGO'S MICHIGAN AVENUE
On Friday, August 26th, SEPHORA brings its innovative BEAUTY TIP (Teach, Inspire, Play) WORKSHOP concept store to the Midwest with the opening of its new Michigan Avenue store. Chicago's revolutionary new shopping experience will be the third SEPHORA BEAUTY TIP Workshop in the U.S., joining San Francisco's Powell Street and Boston's Prudential Center locations which opened within the last year, and marks the global beauty retailer's 400th free-standing SEPHORA store in North America.
Sephora Michigan Avenue's BEAUTY TIP WORKSHOP, an all-new 10,040 square foot street-level store, is one of Sephora's largest and reflects the next-generation of the continuously evolving SEPHORA experience. The virtual paradise of endless beauty options includes an exciting footprint that's both distinctive and intuitive, with over 13,000 products, and a pioneering store environment rooted in discovery and innovation. This includes a wide array of services and classes that will make a visit to the store a one-of-a-kind, individualized experience, every time.
"We're thrilled to expand our reimagined Sephora Beauty TIP Workshop experience to Chicago's Michigan Avenue, one of the premier shopping destinations in the country," said Calvin McDonald, President & CEO of SEPHORA Americas. "Every detail works collectively to create a space for our clients to Beauty Together, offering an incomparable level of integrated physical and digital designed to teach and inspire our community of beauty enthusiasts, partnered with an unparalleled assortment of prestige-only beauty that engages them to play and discover what works best for them."
Sephora Michigan Avenue
605 North Michigan Avenue
Chicago, IL 60611
Phone: 312-649-9343
Store Hours: Mon-Sat: 10 am to 9 pm
Sun: 11 am to 7 pm
About Sephora
Sephora is a leader in global beauty retail, teaching and inspiring clients to play in a world of beauty. Sephora has earned its reputation with its expertise, innovation, and entrepreneurial spirit, and has been changing the face of prestige cosmetics since its debut in Paris in the early 1970's. A year after its acquisition by luxury group LVMH Moët Hennessy Louis Vuitton in 1997, Sephora expanded its empire to North America with a revolutionary store model that broke down the department store counter. Now with 400 stores in the Americas—including US, Canada, Mexico, and Brazil—plus 500 inside JCPenney, Sephora has become a leading international beauty destination with over 2,000 locations in 31 countries, plus an award-winning website and an intuitive mobile app. Clients have the opportunity to play with 14,000 products from 200 carefully curated brands, featuring indie darlings, emerging favorites, trusted classics, and Sephora's private label, SEPHORA COLLECTION. In store, the client receives personalized recommendations from the IQ system, and at the Beauty Studio she explores her look with makeovers, complimentary classes, hands-on events, and one-on-one consultations. Online she interacts with an inclusive beauty community on the award-winning Beauty Board, interactive Beauty Talk, and The Sephora Glossy blog. And as one of Sephora's 17 million Beauty Insiders, she feeds her beauty addiction with unique rewards and experiences. Sephora offers endless ways to explore beauty. For the latest, visit sephora.com

Copyright secured by Digiprove © 2016