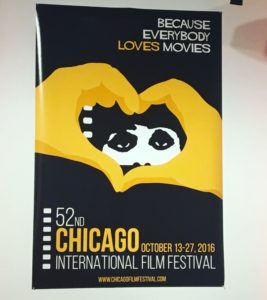 Event: Chicago International Film Festival
Where: AMC River East 21  –   322 E. Illinois Street
When: October 13th – 27th 2016
Site: www.chicagofilmfestival.com
Description:  Chicago International Film Festival will be celebrating its 52nd Year this October 13th – 27th! The festival showcases films from different countries and the celebration continues all week long with red carpet Gala's and film premieres.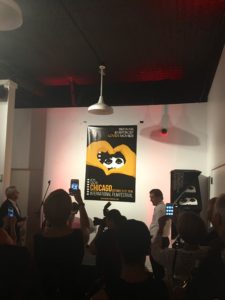 The Chicago International Festival may be in October, but the kick-off party was hosted on July 20th! I'm happy I was able to attend the unveiling of this year's Festival Poster. The Cinema /Chicago hosted their yearly competition where they engaged the public to design a unique poster to help promote the festival. The basic requirement was to present a unique design that captures the essence of the Festival. The tag line this year is "BECAUSE EVERYBODY LOVES MOVIES!" Congrats to the winner Oliver Boyd from the UK! There were over 200 entries from 20 different countries.
I'm anxiously looking forward to checking out the films and exploring the fest this year. I'm definitely not skilled in the art of film so everything I learned last night was intriguing! I had never heard of the Black Perspective Committee which was founded in 1997 through collaboration with director Spike Lee. The committee showcases a wide range of films by African American filmmakers from all nations. The films deal with issues that are significant in the African American community. I can't wait for the festival to arrive and already have a list of films I'm looking forward to seeing!
Tickets are on sale now!!! Check the site for more details. www.chicagofilmfestival.com.
Check out previous winning posters below:

Copyright secured by Digiprove © 2016