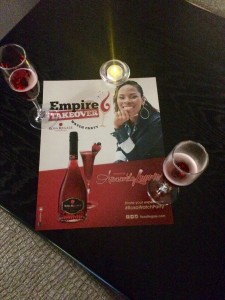 We all know the saying "The more the merrier!" Well that rang true last night! I had a great time at the Empire watch party with social media maven Luvvie Ajayi hosted by Rosa Regale. #empirewednesdays This was a red carpet event with people dressed up and ready to party. They chose a great location, Society Night Club in West town, to host it at. There was plenty of room to move around, but yet it was an intimate atmosphere. The seating arrangements were perfect and offered plenty of space to enjoy the show.
Upon arrival we were given delicious Rosa Regale cocktails. My favorite would have to be the Conqueror (Mango and pineapple mixed with anything is a win for me). Everyone was mingling and Luvvie did a great job keeping us entertained with insights from the show during commercial. I also have to mention it was great to have the talented woman who play's Hakeem's DJ on the show spinning for us. Please forgive me I tried googling, but I cannot find her name. Hit me up if you know what it is cause she did an awesome job and kept the crowd hyped.
Besides the generosity of drinks they rained on us with delicious appetizers. Italian Beef sandwiches, sloppy Joe sandwiches, crab cakes, watermelon bites, and believe me much more. It's so great to stumble across such a great event. We were also informed that Society Nightclub is the place to be every Wednesday night for Empire2 watch parties. Beautiful people, good show, good drinks, and a great time. What more can you ask for. Chicago throws great watch parties. Keep updated on more events by visiting the chiataglance.com/event page. Also follow me on facebook at www.facebook.com/chiataglance. Check out Empire watch party at Society Night Club.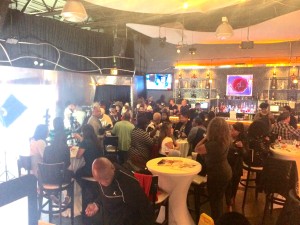 Address and info:
Society Night Club
Empire Watch Party Wednesdays
2201 W Walnut Street, Chicago, IL 60612

Copyright secured by Digiprove © 2015