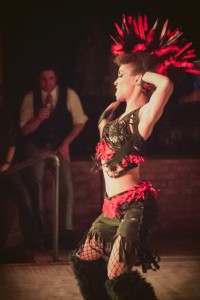 Photo Credit: Alvin Black III
Untitled – 111 West Kinzie Street, Chicago, IL 60654
Event: Unbridled at Untitled
Every Thursday
Time: 10:00pm to 2:00am
21+ Attire (No t-shirts, shorts, flip flops, or gym shoes)
Price: Free
Great for: Date Night, Friends, Girls night, Guys night, Random Night
Description: Burlesque variety show blurring the lines between raw and refined, artistic and devine.
Untitled is my favorite restaurant/entertainment venue in Chicago. When Untitled first open it remained a secret…really…no sign on the door – just the address. Although it's not a mystery anymore it's still one of the coolest places to go. The vibe is 1920's speak easy with 10,000 square feet of space. I've dined here, celebrated special occasions, and have been to just listen to the music. I thought I had done it all until I was introduced to "Unbridled at Untitled." This experience will change your Thursday nights!
Unbridled at Untitled occurs every Thursday and is hosted by Angela Eve. It's not an event for the faint at heart. Honestly, I felt like I was transformed to a Vegas Burlesque show upon entering. On average there are 15 performers doing acrobatics, playing with fire, and mind blowing sensual acts. I won't spoil the surprises. YOU must check it out! There is also a DJ that keeps the party going all night. My friends and I arrived around 10:30pm. Most of the space is dedicated to the stage with a few tables surrounding it and the upper VIP area deck. There was a huge crowd standing around taking in the performances. They break quite often and let the patrons come to the stage to dance with the performers. After enough cocktails I think everyone was on stage during the night. 🙂 I really had a good time and couldn't help but think it would be the perfect bachelorette/bachelor party if your friends are willing to celebrate your last days of freedom on a Thursday night.
Ready to relive the night with me?? 
REWIND: in retrospect this is the way to go…
1) Instead of stopping at Bar Louie for cocktails (LOL)…We should have went straight here. Arrive on the early side! I think it will be near impossible to score a table without a reservation. Make a reservation a couple weeks in advance of the event for dinner around 8:00pm and stay to enjoy the show.
2) If you don't mind standing go ahead and arrive late….I certainly didn't mind. We were moving all night anyway. It gets less crowded as the night goes on. Guess people got to go to work on Friday!
3) Please DO NOT drink and drive, but you really can stay here all night without breaking the bank on parking. The garage next door has a weekday special of just $12.00 (In after 3:00pm and out before 5:00am)
CONS:
– Few tables – but not that big of a deal you'll be grooving all night
– Drinks are a little pricey ($14.00), but hey it's River north so that's pretty average.
See you on the dance floor!
Tavi J.

Copyright secured by Digiprove © 2015