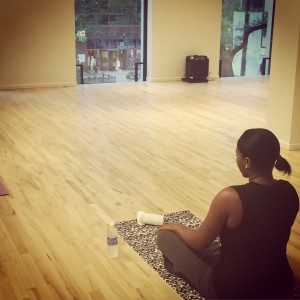 Nike Training Center Chicago
675 N Michigan Avenue, 2nd Floor, Chicago, IL 60611 (Locations may Vary)
Check weekly schedule posted every Sunday at 2:00pm
Time: Day and Time Varies
Event: 45 Minute WORK OUT!!
Great for: Women's fitness classes
Description: Weekly fitness classes for women hosted in different areas throughout Chicago. NTC is a sport inspired full body workout designed for all fitness levels. Duration of class is normally 45 minutes.
Am I a star athlete? NO. Am I flexible? NO. Do I want to improve my health while possibly gaining some flexibility and longevity at the same time? YES! YES! YES! A girlfriend of mine is a loyal user of the Nike Training Center (NTC) apps and swears by them. I happen to stumble upon an advertisement one day for FREE (yes FREE) work out class hosted by Nike Training Center. They closed down the Lincoln Park location, but opened up shortly after along the beautiful streets of Michigan Avenue. Don't live in the Gold Coast? No worries. They have a rotation of classes in different areas at different times. Hopefully there's a class to suit your schedule. Sign Up!
The last class I attended was on a Tuesday after work. It was a yoga class located at the Michigan Avenue location. As I said I am not flexible, but I will give anything a try once. I'm glad I did! The instructor was so encouraging and you can tell she was used to working with all levels. When she did the demonstrations she would adjust the move for all levels. There were people like myself that can't touch their toes to those that can balance on their head. Literally…LOL!. I attended a yoga class during the women soccer finals week and she incorporated a soccer ball into the class routine. We were doing downward dog while passing soccer balls around. You have to see it to believe it.
Yoga not your thing? Well find out what is. You can sign up for a variety of classes from running to toning to strength training. The time and day of the classes vary. I prefer going after work since it's on my way home. There are lockers for your items free of charge inside of the studio. You don't even have to bring your own mat!
Ready to break a sweat with me….think about it 
REWIND:
– The weekly schedule is posted every Sunday at 2:00pm central time. Remember these classes are free. I've paid for workout classes before and these classes are comparable, if not better than the classes I have paid for. With that said classes fill up fast and you gotta sign up right away! Average class size is around 30 people.
– Working out by yourself is fun, but why not have a friend join with you? Skip the cocktail after work and help your waistline and your pockets. 
CONS:
– I wish there was a monthly schedule versus a weekly schedule. It's really hard to get into the more popular time slots on Mondays and Tuesdays.
See you on the Mat!
Tavi J.