I like to party and I've been meaning to check out CH Distillery for a while. I got to check both items off my list yesterday. A lot of bars/restaurants in Chicago host happy hours or special themed events. CH Distillery was hosting a party yesterday to celebrate their two year anniversary. I had a great time!
We first took a tour of the distillery. The setup is unique to have a distillery located in the restaurant. CH Distillery is the only Chicago Distillery making grain-to-bottle Vodka from Illinois grown ingredients. They serve a wide range of spirits and you will definitely be feeling the cocktails! My friends concur they were very strong. A must try is the Fernet Float. It actually has vanilla bean ice cream in it! Delicious 🙂 The food is not to be out done either.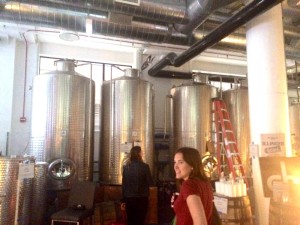 I think we tried a pretty good portion of the menu. The cheddar cheese palter with the salami was good. My favorite food item would have to be the arugula salad. Not too much salad dressing, but it was bursting with flavor. Make sure to save room for dessert and either get the gooey butter cake or for those that don't like sweets (Shame on you :)) try out the ginger almonds.
I would have to say there 2 year anniversary party was a success. We weren't able to stay the whole night, but played a couple of games and really enjoyed our time there. Great location, great food, and great drinks = true necessities of a good Chicago restaurant. Congrats to two years CH Distillery! Want to check out CH for yourself. Click on the link and keep track of their upcoming events and happy hours.

Copyright secured by Digiprove © 2015