Who would have thought the start of 2020 would have us confined to our home in our PJs and communicating with the outside world via apps and social media forums. I for one did not. However, this has become the new normal. Many entrepreneurs, such as Regine T. Rousseau, of Shall We Wine have transformed their businesses to adapt to the new virtual hangout world.
Regine is a Sommelier/Book Author and started the Chicago based company Shall We Wine back in 1997. Shall We Wine is a wine, spirits, and beer experimental marketing, event planning, and media company. Shall We Wine helps their clients increase sales and reach a broader audience through in-store demos, corporate/pop up events, television, and social media.
Regine has been featured in several publications and has appeared on our TV screens on multiple occasions. You've seen her sharing her knowledge of the beverage industry on Windy City Live, Fox5dc, WGN Morning News, The Jam TV Show, and several publications like Wine Enthusiast, The Hyde Park Herald, VinePair, Black Food & Beverage, and Cuisine Noir (to name a few).
Now you can tune in once a week to enjoy a live interactive Virtual Cocktail Hour with Shall We Wine hosted by Regine and featuring special guests and industry experts. Regine loves interactive events and wants her guests to feel like they are a part of the event. The way it works is you sign up for the Virtual Cocktail Hour that's hosted through the (FREE) Zoom Platform. Everyone that registers for the class receives a list of the wine or cocktail ingredients needed for the virtual class. Most of the cocktails are no more than 2 or 3 ingredients. The goal is to showcase the product without the need of a lot of syrups or juices masking the taste.
After we all make our cocktails together it's time for an informative session with someone from the distillery. Regine has been fortunate enough to host the President of the distilleries. They talk about how they got into the business, the flavor profiles of their products, and the cocktails their products show well in. Guests also have the opportunity to ask questions.
The platform is a work in progress and keeps growing. Last week a Chef from New York joined the Virtual Cocktail Hour and did a demo on Black Bean Fritters. Coming up there will be a very special Virtual Cocktail Hour on 5/15 to celebrate Regine's Birthday. The drink of choice will be champagne and she will also be showcasing two local restaurants to join in on the celebration. Even after shelter in place ends Regine still plans on hosting the Virtual Cocktail Hours once a month and adding a travel aspect to them. She's taken several press trips abroad and is super excited to interview people at the Vineyards in Italy and share her experience with us virtually. Stay tune for more information on that! In the meantime check out her blog posts from some of her travels abroad last year.
https://shallwewine.com/2020/01/27/colliowine/
https://shallwewine.com/blog/page/2/
How is Shall We Wine coping with the shelter in place mandate and what can we do to help? Read on below.
Tavi J One on One with Regine T. Rousseau of Shall We Wine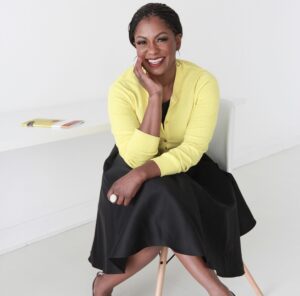 I first came in contact with you on your promotion tour with City Winery for your book "Searching for Cloves and Lilies: The Wine Edition." Can you tell us a little bit about the book and why it's the perfect time to read it?
The Book is relevant because one of the reasons behind the book is to help people see wine in a different way and really understand the emotional connection and the stories behind wine. I think that right now we're looking for wine to fit our moods. We're at home, we're isolated, and what type of wine do you gravitate towards? Something that's going to enhance or match your mood. I think that's what the book does for people who are reading it now.
Buy Book on Amazon: https://www.amazon.com/dp/1978379382/?ref=exp_chiataglance_dp_vv_mw
How are you personally dealing with shelter in place and what affect has it had on your business?
My new hashtag I use is #ImdoingthebestIcan. What I'm learning is to have grace with myself because this is really shocking. To come to a point where you've worked on a business for all these years, it's a profitable business, and then to have something happen where you're like wait a minute…it's over? You just shutdown. It's been shocking and I've been patient with myself. I'm staying focused and I'm staying strong, but I'm also having these moments where I allow myself to grieve. To grieve the loss of energy and the loss of momentum that I was building. I'm okay with that. I'm congratulating myself for doing the pivot. The Pivot is what do I do now and how do I create this virtual space. I think this isn't going to change. The things I'm doing virtually I will continue to do after this.
What can we do to help Shall We Wine? It's great and fun for those joining in on the virtual cocktail hours. I know another goal of yours is to reach 5,000 followers on Instagram. Of course, we can also support by buying your book on Amazon. What else?
The cocktail hour has been going so well and we have our first booking for a corporate client. Lots of teams are remote and it's a good way for a team building event virtually. I'm here to help you plan a very special virtual experience whether it be team building, birthday parties, etc.
My last question is what's the first thing you're going to do once the shelter in place is over?
I want to see my Mom!! I miss her face! I don't know what the restrictions will be. Like can I run up and give her a hug or will I be putting her in danger? I want to sit down and spend time with my mom. That's the first thing I'm going to do.
Make sure to grab a drink with Regine virtually and sign up for a FREE Virtual Cocktail Hour Event.
https://drive.google.com/file/d/1oYOqZzUbQEbsZ6C89nhpEU4POivgQt2g/view?usp=sharing
Follow Shall We Wine on Social Media
Instagram/Facebook/Twitter: @ShallWeWine

Copyright secured by Digiprove © 2020