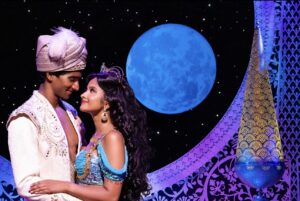 How exciting to relive Disney classic movies on Broadway! Chicago get ready for Disneys hit Broadway musical Aladdin. Aladdin will be in town from May 17th – May28th 2023. I can't wait to see all the special effects and the costumes. Did you know that 8,644 Swarovski crystals are used in a single costume?!?
For those not familiar with Aladdin it's based on an Arabic folktale about an Arabian Street Urchin who finds a magic lamp containing a genie. With the genie's help, Aladdin disguises himself as a wealthy prince and tries to impress the Sultan in order to win the heart of his daughter, Princess Jasmine. As the Sultan's evil vizier Jafar plots to steal the magic lamp for his own uses.

I cannot wait to be one of the 10+ million worldwide audience members to see this show stopping performance on Broadway.
CHICAGO you have from May 17th – May 28th to see the show. Get your tickets HERE.

Copyright secured by Digiprove © 2023