Let me start this article by giving a shout out to one of my favorite restaurants I frequent for brunch. Y'all know I'm always giving props to Luella's Southern Kitchen located in Ravenswood at the helm of Chef Darnell Reed. The French Toast there is by far the best I've ever tasted.
Fast forwarded to February 2023 Darnell's Brother (Tyris Bell) opened up a BBQ joint in the Canaryville/ Fuller Park neighborhood on Chicago's Southside called Bell Heir's BBQ. Tyris helped start the acclaimed Luella's Southern Kitchen with his brother Chef Darnell Reed, and served as its general manager for eight years. Bell Heir's BBQ (704 W. 47th Street, Chicago; 773-420-3685) is designed  primarily as a takeout restaurant, the venue will feature signature dishes including Rib Tips and Houston-style Barbecue Turkey Legs.
I tried a fair amount of the menu and I gotta honestly say everything is DELICIOUS, so it's hard to pick a favorite. If you twist my arm though, I'm gonna have to go with The Brisket Mac 'n Cheese, the fall-off-the-bone turkey leg, and the brisket pizza. Oh, I also LOVED the rib tips… see it's hard to pick a favorite!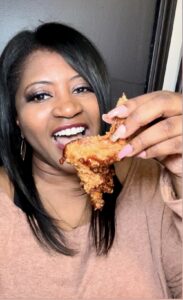 "I am such a lover of barbecue that when I decided to open my open restaurant, it was an easy decision to take my great-grandmother Luella's wonderful recipes and serve them up to the many barbecue lovers in Chicago," said Bell. "Luella was a major influence on our entire family. Her recipes and high standards of food preparation are what inspire me every day. My goal is that Bell Heir's BBQ will rise above the crowd of Chicago barbecue joints and be considered one of the best."
As a takeout-focused restaurant—limited seating is available—Bell Heir's BBQ encourages guests to bring the food home for a delicious family style meal. Guests are encouraged to spread the word by posing for selfies in front of the wall-sized Bell Heir's BBQ logo.
Bell Heir's BBQ is open Wednesday through Sunday from noon to 9 p.m. Orders can be made in person, via telephone or online. Online orders only available until 8:30 p.m. The restaurant is closed on Monday and Tuesday. Delivery is available. For more information or to order online, please visit the website at https://bellheirsbbq.com, or call the restaurant at (773) 420-3685. All major credit cards are accepted.
Follow Bell Heir's BBQ on Instagram at https://www.instagram.com/bellheirsbbq/.
Article photos provided by Kurman Communications 

Copyright secured by Digiprove © 2023