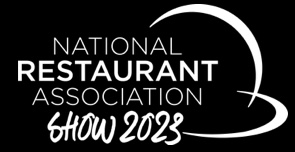 The National Restaurant Association Show returns to McCormick Place in Chicago, May 20th – 23rd. The Show is the largest annual gathering in the western hemisphere where over 35,000 decision-making operators, dealers and distributors representing the commercial chain, commercial independent, non-commercial, retail and lodging segments gather to find the latest innovations in food, beverage, equipment, supplies and more. The trade only events allows the food service industry to discover exciting new products, meet quality suppliers, learn from experts, and make invaluable networking connections.
I cover the show as media and my number one thing to do each year is to walk the floor and immerse myself in product knowledge. I interview many Chefs throughout the year, so another one of my favorite things to do at the show is attend the live demos. The live demos feature celebrated chefs and beverage experts as they demonstrate their techniques and share their stories. For those looking to increase their knowledge there's also culinary insights. Through culinary-focused education, explore the latest in food and beverage trends, menu insights and optimizations to boost sales, and more.
Each year there's a keynote speaker sharing strategies for success. This year there's two. Attendees will get to learn from Pinky Cole, CEO and Founder of Slutty Vegan. Also, Danny Meyer, the founder, former CEO and current executive chairman of Union Square Hospitality Group (USHG), the company behind some of New York's best dining destinations.
I am super excited to hear Pinky Cole speak. Pinky is one of today's most successful restaurateurs. Bringing vegan options and food awareness to Atlanta's West End has always been a life dream of Cole. From her beginnings in a shared kitchen to a food truck and eventually, to seven brick-and-mortar locations (and growing), Cole has built an empire as the owner and visionary of the Atlanta-based restaurant. With a rotating menu and a standard two-hour wait to pick up made-to-order food, Slutty Vegan is considered a game changer, with revenues growing to $4 million within the first six months of its grand opening.
For more information on the National Restaurant Association Show head to nationalrestaurantassociation.com

Copyright secured by Digiprove © 2023