I love unique experiences! Even better when that unique experience is combined with delicious cuisine and whiskey. The team behind Roka Akor is paying homage to The Macallan™ in a unique first of its kind restaurant concept. The M Room is bringing a High-End, Scotch-Centric Dining Experience to River North. I checked it out for myself and the words I would use to describe my experience is classy, educational, and definitely a sexy spot. One of my favorite pairings would have to be the seared scallops (Macallan brown butter, Foie Gras mousse, XO sauce) paired with Emilio Lustau Dry Oloroso Sherry. Read on below for more details and to book your experience.

Roka Akor is paying homage to the The Macallan™
With roots going back to 1824, The Macallan™ is a legendary Scotch whisky with a rich history. Now, the team behind Roka Akor is honoring The Macallan™while bringing it into the modern restaurant era with The M Room, a high-end dining and drinking affair with Scotch whisky at the heart of the experience.
Situated next to Roka Akor, the first-of-its-kind concept combines luxury pours of The Macallan with a tasting menu inspired by the whisky, making for an expert marriage of dish and dram.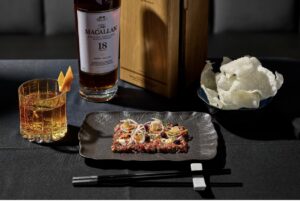 Created by Roka Akor Executive Chef Ce Bian, the 10-course tasting menu – priced at $185 – highlights the flavors and ingredients used in the Scotch whisky making process, including barley, yeast, oak, sherry and, of course, whisky. Examples include Toro Sashimi with baked Macallan yeast seasoning, and wasabi zuki; Wagyu Tataki, with barley miso sauce and fresh truffle; American Wagyu Filet Wellington with mushroom duxelles, prosciutto and a Macallan demi-glace; and Smoked Oak Affogato, which gives a nod to The Macallan's signature Sherry Oak Casks as well as its Scottish origin, with a brown sugar shortbread cookie accompaniment.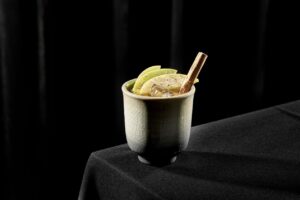 Beverage pairings include craft cocktails as well as neat pours featuring The Macallan, utilizing hard to find whisky's including The Macallan Rare Cask and Macallan Harmony.  Wine pairings are also available. The Macallan and wine pairing menus ring in at an additional $145 each.
The M Room bar will provide ala carte options, featuring a select menu of unique, hard-to-find whiskies, craft cocktails and small bites.  Featured whiskies will include the newly released M Collection, selections of Fine & Rare, Exceptional Single Cask and library releases of The Edition Series, The Harmony Collection and Classic Cut amongst others. The cocktail list includes "The Six Pillars", our riff on the Old-Fashioned featuring Macallan 30 Sherry Oak. The knowledgeable M Room team is available to share tasting notes, production details and other information on The Macallan; tailored to both novices as well as Scotch whisky aficionados.
Finally, the atmosphere of The M Room matches the elegance of the food and drink offerings, with warm lighting, dark tones, rich fabrics and minimal décor.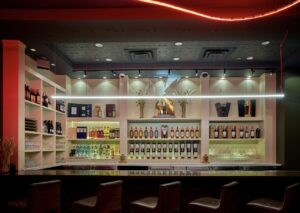 The M Room is located at 450 N. Clark St. and will be open Monday through Friday with two different seatings, at 5 p.m. and 7 p.m., with the space used for private events and additional Roka Akor seating on Friday and Saturday nights. Reservations can be made on Tock. More information and a full menu can be found at www.MRoomChicago.com.

Copyright secured by Digiprove © 2023