There's something so magical about being a tourist in your own town. Especially, if that town was voted Best Big City in the U.S. six years in a row by Condé Nast Traveler readers. I'm talking about sweet home Chicago.
I'm proud to be a native Chicagoan and even prouder  that I get to promote my city to the fullest. This past weekend, with the help of Choose Chicago, my fellow blogger friends and I enjoyed a wonderful staycation at the Cambria Chicago Loop hotel. We took the excitement level up a notch by enjoying a fantastic dinner at Gaijin, followed by an evening with bottle service at Hubbard Inn. Read on below for more details!!
 Where you stay is EVERYTHING!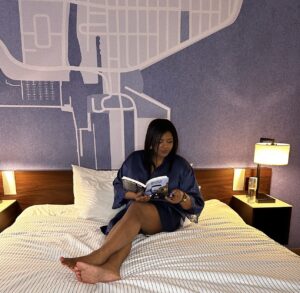 One of  the biggest reasons to stay at the Cambria is LOCATION LOCATION LOCATION! The stylish upscale hotel is located in the Chicago Loop theatre district. Besides being located next to all the hottest theater shows you're also in walking distance to tons of shopping on State Street, attractions like Millennium Park, Chicago Riverwalk, dining, museums, Lake Michigan, and much more!!
Cambria felt like my home away from home! The guest rooms are sophisticated with modern furniture, rich colors, and artistic elements. There's a game room, exercise room, and meeting room. Also, make sure to check out onsite restaurant Intermission Bar and Kitchen located on the 9th floor. One huge standout that separates Cambria from other hotels is their onsite international cirque dinner theater on the 14th floor of the hotel called, Cabaret Zazou. The current premier production is Luminaire.
When booking make sure to take advantage of the special packages and offers. Currently there's a special 15% off theater rate, Chicago residents rate, and a caregiver rate.
We were so comfy we didn't want to leave, but as they say the show must go on….. 🙂
Dinner Time!
Our hungry stomachs led us to Gaijin in the West Loop of Chicago. Gaijin by Chef Paul Virant is Chicago's first okonomiyaki restaurant, offering both Hiroshima and Osaka styles of the savory Japanese pancake.
The 60-seat space is anchored by a custom 12-foot griddle and chef's counter and offers individual Hiroshima teppan griddles for table service.
The dessert menu features kakigori, a shaved ice dessert, along with mochi donuts and other Japanese-inspired treats.
The bar program showcases highballs and a focused selection of beer – including a Moody Tongue-Gaijin collaboration house lager, sake, Japanese whisky, and wine.
Let's just say I will definitely be back! We enjoyed the entire meal and especially the dessert!
After Dinner is the After Party 🙂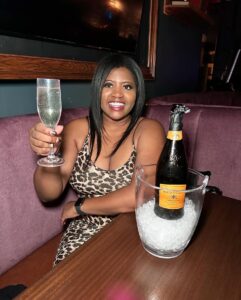 After dinner we headed to Hubbard Inn on Hubbard Street. This was Halloween weekend so EVERYONE was in costume. To be honest I totally forgot about Halloween and was not really in the mood for chaos. We still had a good time though and had bottle service on the 1st floor.
Well there you have it! Another FUN Chicago staycation in the books. Chicago truly has it all!
Staycation was Sponsored by Choose Chicago

Copyright secured by Digiprove © 2022