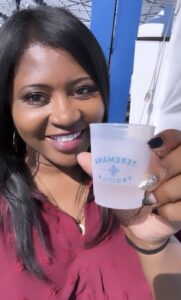 I'm a big city girl and my energy is ALWAYS revived with a good meal in a dynamic setting. Hence, why I always pack my bags each year and head East to attend the Food Network New York City Wine & Food Festival (NYCWFF). The four day 80+ events are presented by Capital One. The star-studded events showcase the talent of world renowned chefs, wine & spirit producers, culinary personalities, lifestyle experts, and America's most beloved television chefs.
Did I mention it's all for a good cause? Over 45,000 people attend and 100% of ticket sales benefit God's Love We Deliver, whose mission is to nourish vulnerable New Yorkers affected by severe illness. $14,000,000 has been raised to date to support this wonderful organization.
I've had the pleasure of covering the NYCWFF for the last four years. This year the festival celebrated 15 years of eating, drinking, and providing fun entertainment for a good cause. With over 80 events there's definitely something for everyone to enjoy. The festival is known for its walk-around tastings, but there's also intimate dinners, late night parties, hands on classes, wine tastings, and more!
Over the years I've become a PRO at navigating the event. My advice is to take a deep breath and DO NOT become overwhelmed. Clearly you can't make it to every event, but the goal is to be completely present at the events you do attend and have a great time! That's all the words of wisdom I have to share. 🙂 Keep reading below for my 2022 experience. I already can't wait for next year!!
Tavi J. Of Chiataglance 2022 NYCWFF Experience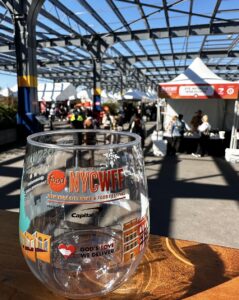 My festival experience started a day late. I flew into New York on Friday versus Thursday. I picked up my tickets and headed straight to my first event which was Southern Glazer's Wine & Spirits Trade Day hosted by Wine Spectator. The event is an exclusive, invitation-only experience for SGWS's top clients and partners. My favorite part of the event was the return of the sought-after Wine GEMS Collection Room presented by Wine Spectator. Guests had the opportunity to taste rare, exclusive or limited vintage wines and spirits from the SGWS and Lauber Imports portfolios.
AND…. You all know I'm a whiskey lover. One of my favorites at the event was Sagamore Spirit Rye. My favorite was the Cask Strength coming in with an 112 proof. Another cool concept was Rockey's Liqueur. Rockey's is the secret ingredient that elevates every drink. It smooths harsh edges and freshens cocktails with citrus, tea, and natural fruit. I mixed my Rockey's Liqueur with the Sagamore Spirit Rye and it tasted great!
After heading back to my hotel to recover for a bit I got ready to be transported to Italy. I attended Peroni's Taste of Italy presented by Fratelli Beretta and hosted by Alex Guarnaschelli and Scott Conant with special guest Whoopi Goldberg.
The all-out Italian extravaganza was located at Pier 86, home of the Intrepid Museum. Guests got to try Little Italy's classics alongside modern twists from the best Italian restaurants all over NYC while dancing the night away to great music. I tried my best to taste every Italian dish imaginable from crudos and braciola to meatballs and more.  The authentic Italian feast also featured dazzling desserts, beer, wine and spirits.
Do you think I ended my night after stuffing my face at the Taste of Italy? If you answered no, you'd be right. Afterwards I hit up late night party Disco & Drinks: A Night of Classic Cocktails hosted by Ben Soffer, aka @boywithnojob and founder of Spritz Society, a new premium sparkling cocktail. 25 of today's top spirit brands showcased their favorite creations and newest products to create a cocktail party that you can only find at NYCWFF. P.S. I'm really loving Japanese Whisky lately.
The DJ was spinning disco classics all night while we sipped on cocktails, dined on high-class bar food, and danced the night away. Making it to a Late Night Party is a must!
I wish I could report that Saturday I woke up early and headed to an afternoon event, but that would be a lie. LOL I was exhausted and slept in most of the day. I summoned my energy that evening though and headed to Caviar presents Tacos & Tequila after Dark. The event was powered by Toyota and hosted by the cast of The Kitchen with special guests Elvis Duran and the Z100 Morning Show. I was super excited one of my favorite Chefs, Chef Chris Valdes, was serving up DELICIOUS Ropa Vieja Birria tacos.
The supersized fiesta featured everything that's fit to put in a shell plus tempting sides and a sweet nightcap. The hosts for the evening were the multi-talented hosts of Food Network's "The Kitchen:" Sunny Anderson, Katie Lee Biegel, Alex Guarnaschelli, Jeff Mauro and Geoffrey Zakarian.
After stuffing myself with Taco's I attended my last unofficial NYCWFF event. I started the festival with an invite only event and I ended the festival with an invite only event. I attended Audible's Chef After party hosted by Lee Brian Schrager, Marcus Samuelsson, and Jonathan Waxman. What happens at the after party stays at the after party, but here's a few pictures.
The 15th annual Food Network New York City Wine & Food Festival was AMAZING. If you're looking to eat, drink, and be merry for a good cause, this is a must attend festival for you. nycwff.org

Copyright secured by Digiprove © 2022