The Oscars of the culinary world returned this year. For more than 30 years, the James Beard Awards, are among the nation's most prestigious honors. The James Beard Foundation is a nonprofit organization with a mission to celebrate, support, and elevate the people behind America's food culture and champion a standard of good food anchored in talent, equity, and sustainability. The Gala brings together recognized leaders in the culinary and food media industries.
My first time attending the gala was right before the pandemic hiatus in 2019. Check out my past experience here. Last nights gala, hosted by Chef Kwame Onwuachi at The Lyric Opera of Chicago, did not disappoint. More than 70 Awards were presented throughout the weekend to recognize excellence in the categories of restaurants and chefs, books, broadcast media, journalism, leadership, and lifetime achievements. Chef Erick Williams of Virtue Restaurant & Bar in Hyde Park (Chicago) brought home Best Chef for the Great Lakes. Another exciting winner moment was Mashama Bailey of The Grey in Savannah GA winning her second James Beard award for Outstanding Chef.
Click here to see the full list of winners.
As they say "after the show is the after party"… The James Beard post-awards celebration was a walk-around tasting reception held at Union Station immediately following the show. It was well attended by 1,500 chefs, restaurateurs, food media, and culinary enthusiasts. The event featured food and beverage stations highlighting chefs from around the country.
Jealous of all the fun? Well you don't have to be! The James Beard Awards is a ticketed event open to the public. Make sure to check them out next year. Read on below for more highlights and pics.
Tavi J. James Beard weekend Highlights

Panel Discussions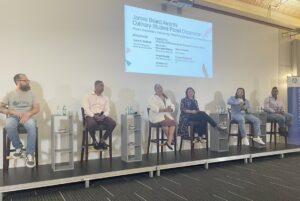 The James Beard awards gala is just one of many culinary gatherings during the James Beard Awards weekend. There are several events to attend. One highlight of my weekend was attending the Kendall College Panel: Food x Hospitality x Community: Redefining Excellence for a New Generation.
The panel featured James Beard Restaurant and Chef Award Nominees: Mashama Bailey, Angel Barreto, JJ Johnson, Jason Vincent, and Crystal Wahpepah. The panel was moderated by Anne E. McBride, PhD, VP of programs for the James Beard Foundation.
What does excellence mean to you? Here are a few answers from the panel.
Chef JJ, Fieldtrip, NYC
When I went to culinary school the slogan was, "Not preparing is preparing to fail." And that's what excellence defines. 
I now in my career own a rice bowl shop. Everything I make is under $14. We are located in a community that has the highest unemployment rate in New York City. So excellence to me is redefining what the community wants to eat. Giving people the accessibility to choose better for you food that look like me and employing folks that don't get shots because they come from a certain place. That's excellence for me.
Chef Mashama Bailey, The Grey, Savannah GA
Excellence is a hard thing to put into words because everyday you just want people to like your food and you want them to come back… I think it's just as simple as that.
For me I didn't want to appropriate anyones experience. I wanted to figure out what my own culinary journey was. Striving for that was my way of striving for excellence. Researching ingredients that were in the region, staying true to those ingredients, work with people in the community, work with local farmers in order to stay true to those people and those traditions. First is the community, it's a personal journey. Next is to figure out how you can leave that community better. Not to take too much from it, but to leave it better from before I got there.
Chef Jason Vincent, Giant, Chicago
If excellence is what we're striving for we're going to be really really disappointed a lot of the time. My version of excellence is managing my own expectations, managing the expectations of everyone around me, the guests, and my wife. Long and short excellence is not something I think about.

Press Room Action

Besides the wonderful Eli's Cheesecake spread, the Press Room was the place to be to capture the excitement and unbelief of the 2022 James Beard Award winners. Chef Erick Williams was smiling ear to ear when he was presented Best Chef Great Lakes award. He was presented the award from Chicago's own, actor Jeremy Allen White (most notable for his role in the TV show Shameless).
I loved watching the camaraderie of some of the Chefs meeting for the first time in the Press Room and congratulating each other like family. No other industry do you see so much love, appreciation, and respect on display.
Touching moments
There were plenty of touching moments at the awards show. The winners were truly stunned and their emotions showed through in their speeches. One touching moment was Grace Young being presented with the Humanitarian of the year award for her work in the AAPI community and striving to protect China Towns in 2020 from discrimination. You can read more of her story here. I think at times we feel helpless and think that we play a small role in solving problems. One small and powerful way she said you can help the AAPI restaurant community is just to go. Frequent the China Town community mom and pop restaurants to show your support.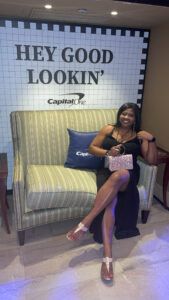 Seriously, what an awesome night and congrats to the culinary community! They are essential workers. When you think back on happy moments all of mine include food somehow. I don't know what I'd do without them. Show your support to your local restaurants!!

Copyright secured by Digiprove © 2022