LIGHTHOUSE IMMERSIVE TO SPOTLIGHT IMPRESSIONIST MOVEMENT IN NEWEST OFFERING: IMMERSIVE MONET & THE IMPRESSIONISTS
Guests will be Immersed in Works by Monet, Renoir, Degas, Cassatt and More in Six American Cities This Summer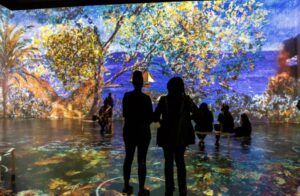 In the wake of reaching over 5 million tickets sold to Immersive Van Gogh and the opening of Immersive Frida Kahlo to tremendous acclaim in eight cities, Lighthouse Immersive is shifting its focus to the Impressionist Movement of the late 19th century with Immersive Monet & The Impressionists: a tantalizing exploration of the radical artists that shook up the art world in an attempt to capture both the transient nature of beauty, and the timeless beauty of nature.
State–of–the–art video mapping and ground–breaking animation bring the art of the Impressionists to life like never before in what is slated to be the largest immersive art experience in the country. 500,000 cubic feet of projections composed of over 1.2 million frames of video bring the piece together, bathing viewers in the brushstrokes and colors of Claude Monet, Auguste Renoir, Edgar Degas, Mary Cassatt and many more. In addition to Impressionism, the program also features other artists who birthed movements that nudged the art world into the 20th century, including the robust marine paintings of J.M.W. Turner and the Post–Impressionist works of Toulouse–Lautrec.

Immersive Monet & The Impressionists is coming to the following six American cities this summer, with more planned:

Boston | Beginning June 16
Chicago | Beginning June 17
Columbus | Beginning June 18
Houston | Beginning June 24
Dallas | Beginning July 1
Phoenix | Beginning July 29
Tickets for Immersive Monet & The Impressionists are on sale now! immersivemonet.com.

Copyright secured by Digiprove © 2022