FRIDA: IMMERSIVE DREAM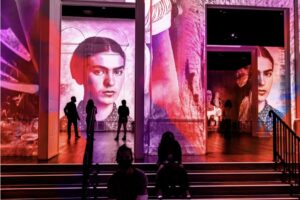 The Creative Team Behind Immersive Van Gogh Directs Its Lens to the Life and Work of Frida Kahlo
Arriving in Chicago Feb. 24 – May 28, 2022
Lighthouse Immersive, North America's leading producer of ground-breaking experiential art exhibits, and Maestro Immersive Art announce their newest immersive art installation, FRIDA: IMMERSIVE DREAM. On the heels of their critically acclaimed blockbuster Immersive Van Gogh (now on-view in 15 cities), Lighthouse Immersive and Maestro Immersive Art have set their sights on the art and life of Frida Kahlo (1907-1954), the beloved 20th century Mexican artist best known for compelling self-portraits and radiant pieces inspired by her life in her native country of Mexico. The exhibition features some of the artist's best-known works "brought to life" by the world-renowned master of digital art, Italy's Massimiliano Siccardi, again accompanied by composer Luca Longobardi's resonant score. Vittorio Guidotti is the Art Director. A brilliant, bold and uncompromising painter, Kahlo's work is globally recognized for its raw emotional vitality, vibrant color work and unflinching intimacy.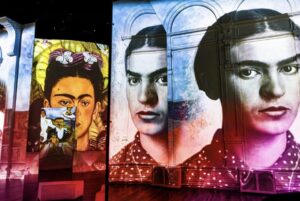 "In this piece, we will chase Frida's world, always in motion," adds Siccardi. "We will discover her tenderness and hostilities by taking in her observations and fantasies. Our hope is that viewers will let themselves be penetrated by Frida's stories, and in so doing, live vicariously through her."
FRIDA: IMMERSIVE DREAM arrives to Lighthouse ArtSpace at Germania Club (108 W. Germania Pl) Feb. 24 through May 28, 2022. Tickets are on sale today, Tuesday, November 30 at 10 a.m. at immersive-frida.com. Ticket prices start at $39.99 with timed and flexible options available.
Event Alert
THE LIGHTHOUSE LOUNGE CELEBRATES INTERNATIONAL WOMEN'S DAY

MARCH 8TH WITH

 "A TOAST TO FRIDA" AND IMMERSIVE FRIDA KAHLO
Evening Includes Sparkling Wine Tasting and Hors D'oeuvres and the Immersive Frida Kahlo Exhibit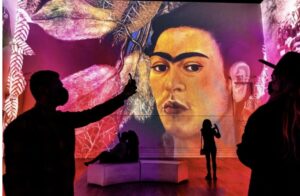 The Lighthouse Lounge
, the upscale bar at Lighthouse ArtSpace Chicago (
108 W. Germania Pl.
) alongside the hit attraction Immersive Frida Kahlo, today announced "A Toast to Frida," a
one-night
only event
March 8
in celebration of International Women's Day. "A Toast to Frida" invites women – mothers, sisters, partners and colleagues to a night of delectable hors d'oeuvres, heavenly vintages and a showing of
Immersive Frida Kahlo
, the newest immersive experience by Lighthouse Immersive that is on-view alongside the blockbuster
Immersive Van Gogh
exhibition. The night will begin with a glass of prosecco for all in the Lighthouse Lounge and a communal toast to the artist who dared to express her truth, pain and struggles in bold brushstrokes, creating art that heals and inspires to this day. Guests will then be invited into the gallery to view
Immersive Frida Kahlo
at 7:30 p.m.
The night will culminate with a sparkling wine tasting event, featuring over a dozen sparkling wines from around the world,
from 8:15 to 10 p.m.
"We could not let international women's day pass without honoring one of the most inspiring women in history," said Irina Shabshis, co-producer of Immersive Frida Kahlo. "International Women's Day is the perfect occasion to honor this extraordinary artist and her legacy, as well as celebrate all the women who touch and shape our lives every day."
Tickets for "A Toast to Frida" start at $99.99, with VIP ticket options available. VIP perks include a bottle of prosecco and an
Immersive Frida Kahlo
poster. Tickets can be purchased
here
.

Copyright secured by Digiprove © 2022