"Can we skip to the good part….."
If you're familiar with Instagram Reels that seemed to be one of the hottest tracks to accompany posts this year. Ahhhh yes, let's skip to the good part." 🙂
2021…. Can't really describe it as post pandemic (since the pandemic is still ongoing), but it clearly felt like people were trying to get their lives back to normal per-say. I fell somewhere in the middle of trying to get my life back to normal and trying to evolve. Long ago are the days of needing to have it all figured out and planning every detail of the future. The last couple of years has taught me flexibility. Life is short. So, do what you can with what you have NOW.
The Chiataglance blog continues to highlight all Chicago has to offer, but we have evolved into Chicago's attachment with the world by doing some travel pieces. Hopefully, there will be a continuation of that. If you're a foodie Chicago remains one of the best dining destinations, but it's also nice to know you can hop a quick flight and attend food festivals like the Food Network and Cooking Channel New York City Wine & Food Festival. I've covered the fest for three years now and it's one of my favorites.
What else was Chiataglance up to this year? Read on below……
INTERVIEWS
The start of the year we hit the ground running with interviews. In January I had the pleasure of interviewing Season 19 Hell's Kitchen contestant Amber Lancaster. I enjoy speaking with members of the restaurant community. For women's history month back in March I interviewed Racquel Fields of Caribbean fusion restaurant 14 Parish. Continuing on with the islands I had the pleasure of interviewing Chef de Cuisine of Miss Lily's in Soho New York, Kahari Woolcock. I met Chef Kahari at a food festival in Miami a couple of years ago and it has been amazing to watch the rising chefs career flourish.
Why slave in the kitchen when you can hire a Chef? I interviewed the dynamic Chicago based catering duo "The Chef and The Baker." What started off as a love story from Match.com turned into a lucrative business. Speaking of lucrative business I also interviewed the founder/owner of the Black Bourbon Society, Samara Bee Davis. As a bourbon lover you know I had tons of ahem…whiskey related questions. 🙂
Towards the later part of the year I finished off my interviews with a LIVE Instagram interview with local Chicago celebrity Jeremy Joyce of Black People Eats. I also was super excited for the opportunity to interview Celebrity Chef Richard Blais. We talked about everything from his food podcast to his upcoming show, "Next Level Chef," with Gordon Ramsay.
DINING
Interviews are my number one priority and what I love to do most for Chiataglance. I would have to say my next favorite part would be eating. I am fortunate to be able to preview restaurants before they open to the public and attend some of the best food festivals like Chicago Gourmet. This year although I visited fewer restaurants I had some amazing dining experiences and put together an end of the year top 12 dining moments list. Hopefully you'll get to check out some of the dining destinations for yourself.
VACATIONS AND STAYCATIONS
I know we were all itching to get some travel in this year. You couldn't scroll through Instagram without seeing someone you know in Tulum, Mexico. My friend and I decided to join the masses and packed our bags in April for a Tulum adventure. Definitely a picturesque setting and a reprieve from busy city life. While booking our flight to Tulum we didn't realize we had a nine hour layover coming back. We weren't upset though when we realized our layover was in Miami! Hello, South Beach! We enjoyed cocktails along the board walk and lunch at Gianni Versace Mansion before heading back to reality. Other travel this year involved heading to Boston for my highschool best friends wedding, celebrating my 37th birthday in Viva Las Vegas, and covering a food festival while visiting friends in New York. Quite a bit of travel, but I hope to venture into some solo travel and more international travel in 2022.
A popular word thrown around is "Staycation." I'm a firm believer of enjoying your own city. Chicago was named best Big City in the US by Conde Nast Traveler for the 5th year in a row! I had so much fun with the Choose Chicago team celebrating our win! Whether your a native Chicagoan or a tourist you can't help but be drawn in by the vibrancy of our city. I like to highlight Chicago and the local businesses through my staycation pieces.
I started off the year collaborating with a couple of other influencers for Women's History Month. We stayed at a Chicago hotel designed by a Woman (Radisson Blu Aqua) and visited establishments and restaurants owned or operated by women.
Chicago has so many ecletic neighborhoods. I was excited to venture to the Lincoln Square/Roscoe Village neighborhood for a staycation at The Guesthouse Hotel. The Lincoln Square neighborhood has so many small and local businesses that have been around for decades. You can definitely plan a whole day there AND get in some really good local eats.
My very last trip of the year was a couple weeks back. I guess you would call it a Vacation/ Staycation. 90 minutes from Chicago is Lake Lawn Resort. It's a year around getaway destination. We had such a fun time relaxing on the 2 mile stretch of Delavan Lake's Shoreline. Ahhhhh I wanna go back!!!
POP-UPS
Ya'll know I live for a good Instagram worthy Pop-Up. I went to plenty this year. I started off the year at the Immersive Van Gogh Art exhibit (which will be replaced by the Frida Kahlo exhibit…stay tune). I traveled back to my childhood with a nostalgic pop up called "Hide Seek." The interactive installations had you feeling like a kid again!! I also felt nostalgia when my favorite TV show pop up – The Office – came to town. I still watch that show before bed! I ended the year with a plethora of holiday bar pop-ups. Santa Baby Bar still reigns supreme in my humble opinion.
FESTIVALS AND EVENTS
This year was the return of a lot of events and festivals being back to an in person format. I started the year off with a media preview of the highly anticipated Immersive Van Gogh Exhibit. Shortly following that was Choose Chicago Restaurant week. Although the preview party to restaurant week (First Bites Bash) wasn't back in person, I still did preview some restaurants before the week officially began. So a brief rundown of other festival and events I covered this year were:
– Restaurant opening and menu previews
– New Cannabis tour company: Chihigh Tours
– 2021 Hospitality and Tourism Summit
– Scottie Pippen launch of DIGITS Bourbon
– Let's Talk Women picnic in white
– Chicago Auto Show
– Chicago Friday Night Flights
– Chicago Gourmet
– CH Winery presents #battleoftheblais
– Food Network & Cooking Channel NYCWFF
– WhiskeyFest hosted by Whiskey Advocate
– The Chi Urban League Golden Fellowship dinner featuring Boyziimen and Babyface
– LuxeHome Chill
– FEWSpirits 10th Anniversary private distillery tour with the founder/owner.
– Judged a French Toast competition at restaurant Crazy Bird.
PRODUCT REVIEWS
I love being reached out to for FUN product reviews. My favorite to date was the wonderful collaboration with the "Turn Me Royal" folks. They basically take a picture provided by you and turn you into royalty. So fun!!! I was also fortunate to be asked to collaborate on the McDonald's #wearegoldenmovement and the Misty Copeland #Showsomemuscle challenge.
Ofcourse, I do food product reviews ranging from juice cleanses with companies like Pure Green to meat indulgences with companies like Gibson's Steak, to mouth watering dessert companies like Vanille, to fast food companies like Shake Shack.
Other companies I collaborated with this year was a natural soy based candle company, CBD drink company, wine company, whisky company, fitness and spa companies.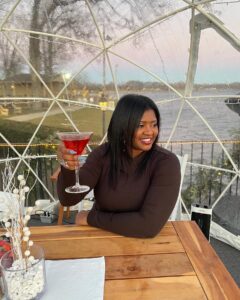 Cheers to great memories in 2021. I can't wait to see what 2022 has in store!
Do you have an interview suggestion, restaurant recommendation, or product review request? Email me: tavij@chiataglance.com

Copyright secured by Digiprove © 2021