CHEFS CARLOS GAYTÁN AND LAMAR MOORE UNIFY TO REINFORCE DIALOGUE BETWEEN CHICAGO'S BLACK AND BROWN COMMUNITIES
Special dinner takes place at Tzuco this Thursday, November 4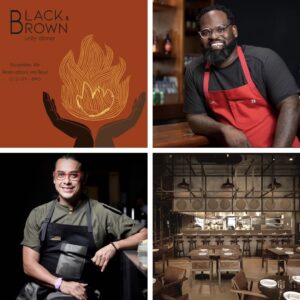 Chefs Carlos Gaytán (Tzuco) and Lamar Moore (Eleven Eleven) have announced a meaningful collaboration at Tzuco (720 N. State St.) intended to reinforce and champion the unity of Chicago's Black and Brown communities. The collaboration takes place in partnership with the México Consulado General en Chicago, who is spearheading Black Brown Dialogue from November 3  to 5 – a lineup of community-driven, educational and cultural programs citywide that will serve as a "call to rethink our shared future."
Gaytán, a renowned ambassador of Mexican cuisine worldwide and a champion of Chicago's Latinx community, and Moore – a star chef who passionately serves as an advocate and mentor for Black youth transitioning into the culinary field – come together for a special dinner on Thursday, November 4 fostering learning, conversation and celebration. The Black and Brown Unity Dinner presented by Chefs Carlos Gaytán and Lamar Moore will emphasize the strength, progress and peace in unity of Chicago's Black and Brown communities.
The duo will present a special, four-course menu that champions the rich culinary histories of their cultures, including:
Roasted Beets
Roasted red beets, pickled yellow beets,  roasted chanterelle, marcona almonds, manchego cheese, mole rosa
Blackened Fish
Blackened striped bass, dirty rice, sweet potato moussaline
Short Ribs
Braised short ribs, black eyed pea cassoulet, gremolata, herb biscuit
Pan De Elote
Sweet cornbread, caramel popcorns, honey toffee, saffron ice cream, smoked cajeta
The evening will also feature the artistry of Keith Smith, also known as Afrokilla, a Chicago-based artist known worldwide for his larger-than-life public murals and passion for using art as a vehicle for social understanding. Currently working out of his studio at The Pilsen Art & Design Center on commissioned work, while also moving through local communities and calling upon his natural gift to make an impact on the world, he always creates with raw, colorful expression. This Thursday, he will create a one-of-a-kind piece live onsite at Tzuco.
Reservations are available from 4 to 10 p.m. Cost is $95 per person, including a welcome beverage, and is exclusive of tax and gratuity. Wine/spirits pairings are available for $45 per person. For reservations, visit tzuco.com.
About Lamar Moore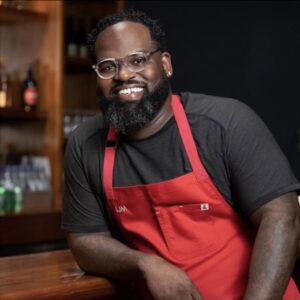 Chef Lamar Moore was born and raised in the South Side of Chicago. He began showing his love for the culinary arts at the age of eight. Growing up in a large family, Moore learned the importance of cooking with love, taking care of people, and giving back to those less fortunate. His grandmother was extremely influential to his culinary journey. Hailing from Mississippi, she passed on a great appreciation of Southern food and culture to her grandson, as well as the importance of cooking from the soul.
Since catching the culinary bug as a young boy, Moore has dedicated years of blood, sweat and tears to get where he is. He graduated from Le Cordon Bleu in 2003 and decided to head West to San Jose, CA, where he secured a job at McCormick & Schmick's Seafood Restaurants. After seven years, he returned to Chicago, where he became the sous chef for the Chicago Bears, before moving on to a series of restaurants working as a successful chef and restaurateur. Moore has had the privilege of cooking for Super Bowls, NBA Finals, and even Barack and Michelle Obama on multiple occasions, but he admits his grandmother will always be his first and biggest fan.
Moore has appeared on popular culinary competition shows like Bravo TV's "Welcome To Waverly" and Food Network's "Chopped." Most recently, Moore competed on Food Network's "Vegas Chef Prizefight," where he earned and won head chef of the all-new $10 million steakhouse, Bugsy & Meyer's Steakhouse at Flamingo Las Vegas. Moore believes food is an opportunity to step back from the world and connect with people on a deeper level and has brought this spirit to the fast-paced world of Las Vegas. While Moore enjoyed many successes there, there is still more he wishes to achieve at home. This drive led him back to Chicago, where he now serves as the executive chef of Eleven Eleven, a new American restaurant in the heart of the West Loop.
About Carlos Gaytán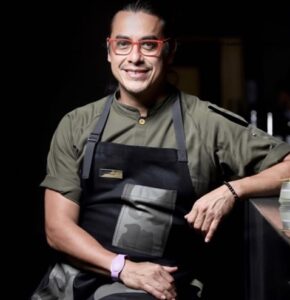 From a young age, Carlos Gaytán fell in love with cooking, exploring a full spectrum of flavor while perfecting heirloom recipes alongside his mother, Doña Teté. At 20 years of age, he craved a new adventure and set his sights on Chicago, Illinois. Little did he know that the journey would inspire a seismic life shift and solidify his dedication to a career in gastronomy.
His culinary path began at the Sheraton North Shore Hotel, where he worked as a dishwasher and cook. Carlos quickly rose through the industry ranks, continuing as the chef-garde manger and banquet chef at the Union League Club of Chicago and ultimately landed under the tutelage of esteemed Chef Dominique Tougne at Chicago's beloved Bistro Margot, where he served as chef de cuisine. There, Carlos' passion for French technique blossomed in full.
Far from home and on his own, the road wasn't always easy. Despite a number of obstacles, Carlos navigated a thorny path to eventually realize his dream of owning his own restaurant, Mexique. The verdict soon came: With a seamless unification of his Mexican heritage and his love of French culinary style, he became the first Mexican-born chef to earn a coveted Michelin star in 2013.
In 2018, Carlos closed Mexique with a deep-seeded desire to grow and reconnect with his roots. With a vow to return to Chicago, he journeyed to Mexico, where he cooked, studied, traveled and worked on new projects that allowed him to rediscover his origins and deepen his understanding of his own heritage. He found what he was seeking – identifying with the stories of his homeland and appreciating their connection to his identity. In 2019, Carlos made good on his promise to return to Chicago, opening Tzuco – from Huitzuco (derived from the Nahuatle huixochin, meaning "plants with abundant thorns"). Tzuco presents the colorful flavors of Mexico while connecting to the techniques of French haute cuisine that Carlos has honed through years of training.
Tzuco shares Carlos' fascinating life experiences through a range of authentic culinary creations. These include dishes showcasing bright ceviche preparations; the delicate flavors of shrimp, clams, octopus, and salmon; the richness of chicken tinga, pork, house-made tortilla and lentils; the zest of chile and aromatic spices; and much more.
Tzuco exudes austere beauty through architecture and conceptual design by award winning partners in Cadena + Asociados Concept Design and ATRA Form Furniture – tracing the chef's intriguing past, present and future while weaving in genuine hospitality, breathtaking atmosphere and unforgettable flavor.
Chef Gaytán was a contestant on BRAVO's Top Chef in 2013 and is a widely recognized ambassador of Mexican cuisine throughout the world. He has appeared  on countless cooking shows as a judge in both the U.S. and Mexico and recently starred on Univision's Familias Frente al Fuego, which premiered July 2019 in the U.S. and aired throughout Latin and South America.
Tzuco has received critical acclaim from Chicago magazine, the Chicago Tribune, Time Out Chicago, CS magazine, USA Today, Food & Wine and numerous food, travel and lifestyle publications in Mexico and around the world. Eater Chicago awarded the restaurant the Best Design honor in the 2019 Eater Awards, as did the prestigious Jean Banchet Awards in 2020. One of the industry's most prestigious honors, Tzuco was also named a semifinalist in the Best New Restaurant category by the James Beard Foundation Awards in 2020.

Copyright secured by Digiprove © 2021