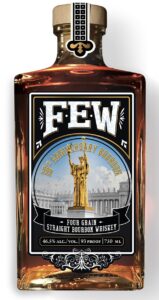 My love of unique experiences took me to Evanston today. Being a whiskey lover I couldn't pass up the chance to tour FEW Spirits distillery with FEW Spirits founder, Paul Hletko.
Since 2011 FEW Spirits is a grain-to-glass distillery that produces award–winning craft whiskey and gin. The distillery is in a tucked away alley located in the growing Chicago suburb of Evanston, IL. Evanston is a historical town where Prohibition lasted until 1972, Founder & Master Distiller Paul Hletko changed the future of Evanston when he opened FEW Spirits Distillery, the first (legal) alcohol-production facility of any kind to ever open there.
In September FEW Spirits celebrated their 10 year anniversary with FEW 10th Anniversary Straight Bourbon Whiskey. The extremely limited-edition product is only available exclusively in Illinois and through a direct-to-consumer channel, BuyFewSpirits.com.
As part of the celebration I joined FEW Spirits founder and other members of the media on a walking tour of the Evanston distillery grounds, including the distillery itself, the ice house, and the rick house in which Hletko has made major financial investment to lay down enough whiskey to ensure exponential growth for the brand in the years to come.
We got to taste the special 10th anniversary bottling and we got an exclusive preview tasting of FEW's forthcoming Bottled In Bond expression.
What to know about FEW 10th Anniversary Straight Bourbon Whiskey by the numbers:
650 initial cases
750 ml bottles
Bottled at 93 proof/46.5% ABV
Mashbill: Corn, Rye, Barley, Wheat
Aged six years in American White Oak
Tasting notes: Bold notes of spicy cinnamon on the palate; round finish
Availability: IL and a direct to consumer channel at BuyFEWspirits.com.
SRP: $50
Founder Paul Hletko said, "We deliberately chose to craft a product that would require years of ageing before it could be sold. We chose to create grain-to-glass spirits, using local grains and materials, although cheaper and easier alternatives are everywhere. And we defiantly made a world class Bourbon from Chicago, when most people thought that wasn't even possible."
To stay up to date on FEW Spirits follow them online at FEWspirits.com and on social media @FEWspirits.

Copyright secured by Digiprove © 2021