CHICAGO GOURMET ANNOUNCES 2021 CELEBRATION
Annual festival reunites fans with Chicago's culinary community, champions recovery of the hospitality industry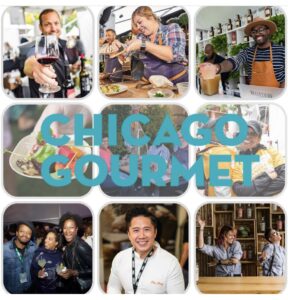 Chicago Gourmet, one of the nation's most distinguished food festivals, is pleased to announce details surrounding the highly anticipated September 2021 celebration. With a focus on reuniting gourmet enthusiasts with Chicago's exciting culinary community, founding sponsors at the Illinois Restaurant Association, and presenting sponsor Southern Glazer's Wine & Spirits are planning both new events as well as the return of several fan favorites that champion Chicago's diverse culinary landscape.
Food and drink lovers can look forward to a range of memorable epicurean experiences, including:
• Go Gourmet! After presenting a series of intimate, sold-out events last year, Go Gourmet returns in 2021, featuring numerous events curated with care by beloved chefs at leading restaurants and venues citywide. From daytime gatherings and evening soirees to multi-course feasts representing a host of cuisines and themes, Go Gourmet events will range in gathering sizes and feature premium wines and spirits from the Southern Glazer's Wine & Spirits expansive portfolio. Taking place throughout the entire month of September, fans can look forward to countless opportunities to reunite with each other and Chicago's stellar culinary community.
• It's SeptemBURGER: Hamburger Hop presented by DoorDash, Buckhead Meat, and Blue Moon. The iconic Hamburger Hop is back
and bigger than ever. A hit in 2020, the Citywide Hamburger Hop takes the battle beyond Millennium Park. 100+ chef competitors will offer tasty burgers for dine-in, delivery, or carry out from September 1-30. Food lovers will be encouraged to hop around town or visit the DoorDash app or website and try as many burgers as possible. Based on flavor and overall presentation, they will vote on their favorite at chicagogourmet.org by September 22.
But wait – there are more burgers to behold! The longtime fan-favorite Hamburger Hop makes a festive return in person at the Harris Theater rooftop on Friday, September 24. There, organizers will announce the champ of the citywide grilling battle, while also crowning the Peoples and Judges' winners of those chefs participating onsite that evening. Tasty burgers, cold beer, wine and spirits, and unparalleled skyline views: There's no better way to celebrate SeptemBURGER.
• Just Cru It: Grand Cru. A newly envisioned variation of the Grand Cru will take place, also in person, on Saturday, September 25 at the Harris Theater Rooftop. The affair will showcase the world's finest wines curated by the nation's leading wine experts, an enhanced focus on craft spirits, and unforgettable cuisine prepared by Chicago's award-winning chefs. Enthusiasts will taste in "grand" style! Two sessions will be offered.
• Charitable Beneficiary: The Illinois Restaurant Association Educational Foundation. With post-pandemic economic recovery of the hospitality industry at heart, Chicago Gourmet programming will benefit the Illinois Restaurant Association Educational Foundation (IRAEF), a 501 (c)(3) dedicated to building and promoting the health and prosperity of the restaurant industry by investing in both youth and workforce. It has awarded more than $3.2 million in scholarships since its inception. Since October 2020, it has also provided $270,000 in cash relief grants to hospitality employees facing financial crisis as a result of COVID-19.
• The Grand Tasting on the Main Lawn will not take place in Millennium Park this September, with a spectacular return planned for 2022. If eventgoers purchased tickets for the 2020 festival, they will be automatically transferred to the 2022 celebration with no further action required. However, if they would like a full refund, they may submit an online request to Chicago Gourmet by July 15, 2021.
"Now in its fourteenth year, Chicago Gourmet is known and loved nationwide," said Sam Toia, President and CEO, Illinois Restaurant Association. "And we have been overwhelmed by the outpouring of continued support and enthusiasm for Chicago Gourmet during this challenging year for all. We want to focus this year's celebration on bringing chefs and restaurants back together with their fans, while doing all that we can to support the present and the future of the hospitality industry. We are looking forward to raising a glass to the exceptional and resilient talent that makes Chicago's hospitality scene second to none!"
Chicago Gourmet's full event lineup, details, and tickets will be announced in August at chicagogourmet.org.

Copyright secured by Digiprove © 2021