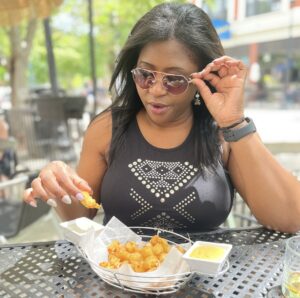 Chicago has many vibrant neighborhoods. Each neighborhood has unique characteristics that make you feel like you're on a never ending vacation.
I ventured a less than 15 minute drive from my home in the Gold Coast neighborhood to the Lincoln Square Ravenswood neighborhoods to embark on a mini staycation. Lincoln Square and Ravenswood are two separate neighborhoods, but are often mention together because of their close proximity to each other. Each location is entrenched in history and culture. Definitely a community vibe versus a tourist trap. 🙂 Lincoln Square Ravenswood is known for independent shops, breweries, and an amazing restaurant scene. I love supporting local! Most of the businesses I visited have been around for decades.
First adventure was checking into our boutique hotel, "The Guesthouse Hotel" located at 4872 N Clark Street. I definitely felt like an honored guest in someone's home. The Guesthouse Hotel has one, two, and three bedroom suites. Every suite offers spacious living areas, separate bedrooms, private bathrooms, and balconies with grills. I was enjoying the home away from home feel the hotel eludes.
Other conveniencs (definitely for families) is each suite has its own washer and dryer. The hotel is in close proximity to restaurants and attractions as well. I can see why they were included on trip advisors top 25 small hotels in the United States 2020 list. theguesthousehotel.com
After lounging around the suite it was time to depart and check out the neighborhood!
We started with….
Cafe Selmarie – 4729 N Lincoln Avenue – Cafeselmarie.com
Cafe Selmarie is a restaurant gemstone. They've been a staple in Lincoln Square since 1983. The contemporary American restaurant and bakery is inspired by European cafes and coffee houses. Sit back and relax on the patio at Cafe Selmarie while enjoying some of the best pastries, soups, and sandwiches.
I love Cafe Selmarie has rotating dishes and pastries. On my visit I went with one of the newest flatbread offerings. The naan flatbread was topped with roasted cremini mushrooms, tomatoes, pickled red onions, goat cheese, and onion chive soubise sauce. The flavors were immaculate together! As a meat eater I didn't even miss the presence of meat. My friend is a pescatarian and went with the spinach lasagna. Again, bursting with flavor and delicious!
Now, although we were full there's absolutely no way you can leave Cafe Selmarie without getting dessert. The bakery has so many options to choose from! We hit a pot of gold with the two desserts we tried. The Matcha Creme Puff and Lemon Meringue Tart were both beautiful to behold with the eyes, but most important they tasted as good as they looked! Even if you're full after your meal grab a pastry from the bakery to go. Your sweet tooth will thank you later!
Next Stop! New Adventures….
After lunch we took a 10 minute walk to:
Chicago Printmakers Collaborative – 4912 N Western Avenue – Chicagoprintmakers.com
I love new experiences and Chicago Printmakers Collaborative definitely offered that. The Fine Art Printmaking Studio + Gallery has been around for more than 31 years. It was so interesting walking around the gallery and getting introduced to equipment I wasn't familiar with.
The services and classes offered at Chicago Printmakers Collaborative are:
Screen Printing
Stone Lithography
Traditional Etching
Book Binding
Classes are offered in a private, semi-private, and small group basis. I took a private screen printing class and our instructor Deb was awesome! We screen printed my company logo onto t-shirts and poster boards. I loved Deb's attention to detail as she helped us pick the colors and explained the process from beginning to end. The hands on class kept us engaged and being able to leave with a unique handmade object that has meaning to you is priceless. Make sure to checkout all the sevices they offer chicagoprintmakers.com
Did you say it's time to get back to eating….. 🙂
For dinner we delighted in French Cuisine at Bistro Campagne.
Bistro Campagne – 4518 N Lincoln Avenue – bistrocampagne.com
Bistro Campagne has been around since 2002. The restaurant provokes the feeling of being in a small neighborhood bistro in France. The weather was perfect so we decided to dine on the beautiful patio. Bistro Campagne offers a seasonally changing menu of approachable French Bistro fare. The menu features the highest quality local and sustainable produced ingredients.
We started our meal with the PEI Mussels. Yummy! I especially love dipping the bread in the broth and letting it get extra soggy. So delicious! For dinner I went with the Filet Mignon and my Pescaterian friend went with the salmon. Both dishes were fresh and filling! I should also mention Bistro Campagne features a bar program with an all French wine list and a wide range of local European beers.
What a full FUN day spent in Lincoln Square! We headed back to our cozy hotel to binge watch tv and prepare for Day 2 of our Lincoln Square exploration.
Lunch Time at THEE BEST sandwich shop!
Jerry's Sandwiches – 4739 N. Lincoln Avenue – jerryssandwiches.com
Jerry's Sandwiches shop is no ordinary sandwich shop. Jerry's offers gourmet style sandwiches and burgers. The combinations are mind blowing! With my love of spicy food I had to order the Muy Caliente Burger (Buffalo Sauce, butterkase/American cheeses, cotija, avocado, jalapeno, cilantro, let, and Southwest Mayo). The flavors together were mouthwatering! Hands down one of the best burgers I've ever had.
My Pescatarian friend happily noted the section of the menu dedicated to non-meat options. She went with the Mountain G sandwich (warm fried Tofu, cheddar, avocado, roast portabella, cilantro, lettuce, chipotle chutney, on a multi-grain bread). Again, Jerry's knocked it out of the ball park with flavor. Also, note Jerry's offers a cocktail, whisky, craft beer, and wine list. Summer on the patio at Jerry's Sandwiches is a must!
Lincoln Square Ravenswood has so much to offer! Check out some other suggestions below to help you plan your next visit to the neighborhood.
Stores to Visit
Merz Apothecary
Timeless Toys
Enjoy, an Urban General Store
Neighborly Shop
Vom Fass
Gene Sausage Shop
Savory Spice Shop
Things to Do
Farmers Market on Tuesdays and Thursdays
The Davis Theater for a movie
Redline VR
Cooking Class at The Chopping Block
Beer along Malt Row at Begyle/Dovetail
VIN312 Wine Tasting
Koval Cocktail Making Class

Copyright secured by Digiprove © 2021